Brandeis and BBYO team up this summer for life lessons in social action
Project Impact gives teenagers hands-on advocacy experiences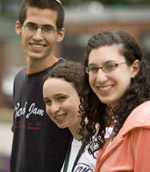 WALTHAM, Mass. – Brandeis University and BBYO Inc., the world's leading pluralistic teen movement, are collaborating on a social action summer program for teenagers that will have a major impact on participants, as well as the communities they're serving, for today and tomorrow. Through "Project Impact," participants will gain hands-on experience at service organizations in the Boston area. During the 12-day program, teens will not only learn about issues affecting the community, but more importantly, they will develop the leadership and advocacy skills needed to address those issues in the long-term. Project Impact will be based at the Brandeis University campus in Waltham, Mass.

"This may be the first time that many of these young people will see firsthand how they can create change on an institutional level," said Project Impact coordinator Shimshon Stu Siegel. "Serving meals in a soup kitchen is a good thing— it fills people's bellies. But we want these teens to be able to think beyond the simple fixes, and engage in envisioning more big-picture strategies for helping people in this world."

At each of the six project sites, participants will focus on key issues— from affordable housing, to sustainable agriculture, to providing services to the developmentally disabled— that affect underserved populations. Participating sites include EarthWorks Boston, the Dorchester Bay- Youth Force, and WATCH (Waltham Alliance to Create Housing- Community Development Corporation). All of the community service work will be placed in a Jewish context, emphasizing the traditional Jewish values of social action and advocacy.

"We want Project Impact participants to challenge some of their understandings of 'community service' and the connections between Judaism and social consciousness," said Siegel, who is partnering with BBYO's New England Region Program Director, Malki Karkowsky, to implement the program. "This will provoke deeper consideration of the realities of society which will, we believe, be more likely to lead to long-term solutions."

Project Impact will be held on the Brandeis campus from June 24 – July 5. Rabbi Bradley Solmsen, who serves as director of both the Genesis and BIMA summer programs at Brandeis, will also serve as director of Project Impact.

For more information about Project Impact, visit the BBYO Web site. 

About BBYO
BBYO is the leading pluralistic teen movement aspiring to involve more Jewish teens in more meaningful Jewish experiences. For more than 80 years, BBYO has provided exceptional identity enrichment and leadership development experiences for hundreds of thousands of Jewish teens. Many of BBYO's 250,000 alumni, who are among the most prominent figures in business, politics, academia, the arts, and Jewish communal life, claim it is BBYO to which they "owe it all."

About Brandeis University
Founded in 1948, Brandeis University is named for the late Louis Dembitz Brandeis, the distinguished associate justice of the United States Supreme Court, and reflects the ideals of academic excellence and social justice he personified. Brandeis is the only nonsectarian Jewish-sponsored college or university in the U.S. Located just west of Boston, Brandeis is a member of the elite Association of American Universities, and is consistently ranked among the world's top liberal arts, research institutions. For more information, visit the Brandeis Web site.
Return to the BrandeisNOW homepage