Basketball players Jessica Chapin, Steve DeLuca named All-Americans
WALTHAM, Mass. – Two Brandeis University basketball players have been selected as State Farm Division III All-Americans. Junior guard Jessica Chapin of Mendon, N.Y., was named to the Women's Basketball Coaches Association (WBCA) H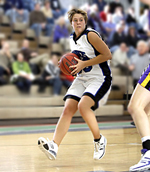 onorable Mention team, while graduate student Steve DeLuca of Merrimack, N.H., a forward, was a third-team All-America selection by the National Association of Basketball Coaches (NABC).

Chapin's selection marks the sixth-straight year the Brandeis has had an honorable mention All-America selection by the WBCA. She guided the Judges to a 20-8 record and the Elite Eight of the NCAA Division III Women's Basketball tournament, the farthest the team has ever advanced in the postseason. The Judges were ranked 13th in the final d3hoops.com national poll. Chapin led Brandeis in scoring (14.1 points per game), rebounding (6.7 rpg), assists (3.2 apg) and steals (2.9 spg), making her one of only three players in the University Athletic Association (UAA) among the top 10 in all four categories. Chapin ranks second on the Judges' all-time list with 121 career 3-pointers, including a single-season record with 46 trifectas this season, and is fifth with 190 career steals.
 
Previously this season, Chapin has been recognized as a first-team All-UAA selection while garnering All-New England honors from the WBCA, the New England Women's Basketball Association (NEWBA) and d3hoops.com.

DeLuca is Brandeis' sixth NABC All-America selection and first since 1978, when John Martin '78 and Walter Harrigan '78 were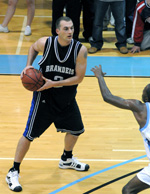 both selected. After missing his senior season to injury, DeLuca returned to the Brandeis line-up and led the Judges in scoring and rebounding for the third time in his career, averaging 15.4 points and 6.9 boards per game, finishing sixth and second in the UAA, respectively. DeLuca helped Brandeis reach the NCAA Division III men's basketball team for the third straight season for the first time in school history. DeLuca is Brandeis's fifth all-time leading scorer with 1,595 points, while also ranking in the top 10 in rebounds, steals and blocked shots. The Judges finished 18-9 overall, 10-4 in the UAA, good for second place in the conference. They reached the second round of the NCAA tournament before falling to eventual Final Four qualifier Franklin and Marshall College by two points.

DeLuca had already been named a first-team All-UAA selection and an NABC first-team All-New England selection this season.
 
Chapin is a 2006 graduate of Honeoye Falls-Lima High School. She is the daughter of Michael and Deborah Chapin, Mendon, N.Y.

DeLuca is a 2004 graduate of Merrimack High School. He is the son of Lydia and John DeLuca, Merrimack, N.H.

The complete WBCA State Farm Division III Women's Basketball All-America team is available here.

The complete NABC State Farm Division III Men's Basketball All-America team is available here.
 
For more information about Brandeis basketball, please visit the athletics Web site.


Return to the BrandeisNOW homepage