Bradley Solmsen highlights new courses for BIMA and Genesis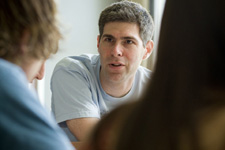 Bradley Solmsen is the director of the BIMA and Genesis summer programs. 
At BIMA and Genesis, Brandeis University's two summer programs for outstanding high school students, we are working on several new and exciting elements of both programs for this summer. Here are some highlights:

Genesis is launching a new course focusing on technology and society. High school students will have the opportunity to explore the relationship between all of the technology surrounding them and how it is impacting the way connections and communities are formed. Students will also develop hands-on projects that will test their theories and challenge assumptions.

For the first time ever, Genesis is offering Brandeis University credit as part of its summer program. This pilot university course will be open to Genesis students who are returning for a second summer.

BIMA is launching a new specialty in filmmaking this summer. With generous support from the Righteous Persons Foundation, BIMA will be working with high school students who want to take their filmmaking skills to the next level. We are in the process of planning the course that will expose the students to top professionals in the field and give them hands-on experience with different facets of film production.

Both programs still have openings for qualified high school students from all over North America, Israel and around the world.

For more information, visit the BIMA and Genesis Web sites.


Return to the BrandeisNOW homepage