Thursday, March 26 event will feature a journalist's take on gender issues in China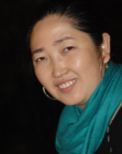 "Gender Issues in China & How Media Reflect Them: A Perspective from a Journalist and Advocate"
Thursday, March 26, 2009
3:30 - 5:30 p.m.
Main Lecture Hall, Women's Studies Research Center
Brandeis University

WALTHAM, Mass.— Prominent Chinese journalist and human rights advocate Cai Yiping will share her views on the women's movement in China and how political constraints and gender bias impact reporting in a March 26 event at Brandeis University's Women's Studies Research Center (WSRC). 

Cai currently serves as the Executive Director of Isis International, a non-governmental organization whose mission is to help women broadcast their views through various mediums of communication. Prior to joining Isis, Cai was Associate professor at the Women's Studies Institute of China, and served as the Deputy Director of International News Department, China Women's News, Beijing. She is also the author of numerous publications, including "Find Their Stories: Women in Media," and has worked on a number of projects with ILO, Unifem, UNDPA and Oxfam.

The event will be presented by the Gender and International Development Committee of the Brandeis Women's Studies Research Center and co-sponsored by the Gender Working Group of the Heller School and the Schuster Institute for Investigative Journalism.

This event is free and open to the public. For more information, please call 781-237-6826 or 781-492-6972.



 



Return to the BrandeisNOW homepage