Editor of new Ted Kennedy biography to visit campus Wednesday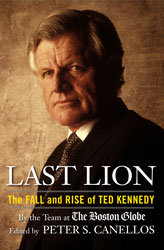 WALTHAM, Mass. -- Boston Globe journalist Peter Canellos will visit campus on Wednesday, March 18 to discuss the new biography, "Last Lion: The Fall and Rise of Ted Kennedy," written by a team of journalists led by Canellos.
Growing up in the nation's most famous political family, rising to elective office, experiencing the deaths of his brothers and the tragedy on Chappaquiddick Island, running for the Presidency, mastering the Senate, Edward Kennedy has lived a remarkable and unique life.
Canellos has been the Boston Globe's Washington bureau chief since 2003. He oversees the Globe's national coverage and writesthe weekly "National Perspective" column. 
The event, sponsored by the Gen Ed Now student club, will take place on Wednesday, March 18 at 7 p.m. in the Heller School's Zinner Forum. Refreshments will be provided.
The event is co-sponsored by the Journalism Program, the Department of History, and the Schuster Institute for Investigative Journalism.
For more information, contact Jonah Seligman at jonahsel@brandeis.edu.
Download the event poster (3.5M PDF)
Return to the BrandeisNOW homepage