March 26 experiential learning symposium will spotlight exploration, discovery and innovation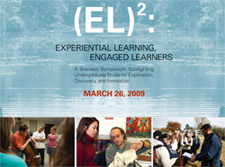 WALTHAM, Mass. -- On Thursday, March 26, Brandeis will host an interdisciplinary experiential learning symposium to showcase the exploration, discovery and innovation of undergraduate students, and celebrate their achievements.
During "(EL)2: Experiential Learning, Engaged Learners," more than 50 students will present their learning gained through hands-on projects and programs during five panel discussions and a poster session. Students, faculty and staff will be able to vote for best poster and best panel speaker. Prizes will be awarded during a reception that will take place from 6 to 6:45 p.m.
The Experiential Learning Program at Brandeis was developed to foster an already vibrant aspect of the university's mission: preparing students for full participation in a changing society, and to be capable of promoting their own welfare, while remaining deeply concerned about the welfare of communities they touch. Experiential learning at Brandeis takes many forms, encompassing research, fieldwork, community-engaged learning, internships, performance and creative and studio work.
With the support of Academic Fellowships, the Department of Community Service, Hiatt Career Center, Study Abroad and the Office of the Dean of Arts and Sciences, students are empowered to engage in experiential learning that transforms not only the students themselves but the communities and organizations they serve. These programs create opportunities for students to actively construct knowledge from direct experience, take initiative, make decisions, and learn from the consequences of their actions (both the mistakes and the successes), through reflection, critical analysis and synthesis.
The symposium is sponsored by the Office of the Dean of Arts and Sciences, the Hiatt Career Center, Academic Services and the Department of Community Service.
Download a PDF of the program.
2 to 3 p.m. Plenary Session with Opening Remarks by President Jehuda Reinharz
"Experiential Learning at Brandeis"
Chair: Dean Adam Jaffe
Panelists: Brooke Rosenbauer '09, Nadine Channaoui '10, Roee Gilron '09 and Yael Zbolon '09
International Lounge, Usdan Student Center
3 to 4 p.m. Poster Session
Usdan Student Center Lobby in front of the Hiatt Career Center, Student Financial Services and Academic Services
4 to 5 p.m. Panel Sessions
"Social Justice, Activism, and Community"
Chair: David Cunningham, Sociology
Panelists: Becky Sniderman '10, Mariah Rich '10, Rachel Sier '11 and Ronya Gordon '09
International Lounge, Usdan Student Center

"Investigation and Discovery"
Chair: Angela Gutchess, Psychology
Panelists: Bosiljka Milosavljevic '09, Daniel Graham '10, Rachael Chanin '10 and Simona G. Lang '10
Rapaporte Treasure Hall, Goldfarb Library

5 to 6 p.m. Panel Sessions
"Global and Cross-Cultural Exploration"
Chair: Daniel Terris, Office of Global Affairs
Panelists: Anna Rothman '09, Hannah Lust '10, Jake Yarmus '10 and Lauren Wild '09
International Lounge, Usdan Student Center

"Innovation, Enterprise, and Social Entrepreneurship"
Chair: Detlev Suderow, Brandeis International Business School
Panelists: Andrew Franks '09, Daniel Wengrovitz '09, Faiyaz Talukdar '09 and Mariel Gruszko '10
Rapaporte Treasure Hall, Goldfarb Library

6 to 6:45 p.m. Reception Open to All
International Lounge, Usdan Student Center
Return to the BrandeisNOW homepage