Spotlight Forum to explore why it may be depressing, but it's no depression
Heller's Lisa Lynch and IBS' Bruce Magid on America's economic outlook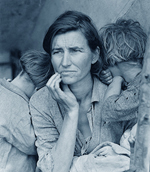 Attempts to repair damage caused by the bursting of the housing bubble, the meltdown on Wall Street, and the shrinking international economy will be analyzed by two stellar Brandeis University economists in the next Brandeis Spotlight Forum, to be held at 8 a.m. on March 19 at Boston's Old State House.

Are officials and regulators doing enough? Is what they are doing effective? How deep will the downturn be? How long will it last? These and related questions will be examined by Lisa M. Lynch, dean of the Heller School of Social Policy and Management, and Bruce R. Magid, dean of the International Business School.

Lynch is chair of the Federal Reserve Bank of Boston and a member of the Governor's Council of Economic Advisers. She was chief economist at the US Department of Labor in 1995-97.

Magid is former managing director and chief international economist at Bank of America. He serves on the board and is treasurer of the Massachusetts International Trade Council, and holds the Martin and Ahuva Gross Chair in Financial Markets and Institutions.

Light breakfast will be available from 7:45 a.m. The program will end at 8:55 a.m.

This event is free and open to the public. RSVPs are requested due to limited seating. Please call 781-736-4210 to RSVP.  The Old State House is located at 206 Washington street, Boston, over the State Street `T' stop.


Return to the BrandeisNOW homepage