Judges sway the jury, again, in mock trial tournament
Brandeis Mock Trial Association advances to next round of competition in what club members hope will be a return to the national championship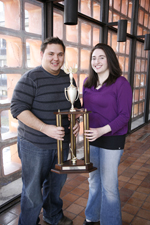 In just its eighth year of existence, the Brandeis Mock Trial Association (BUMTA) has set the bar pretty high when it comes to success. After advancing to The American Mock Trial Association's (AMTA) National Championship for the first time last year, the club has taken the first step in what members hope will be a return trip to the top this year. Last month, the BUMTA finished second in an AMTA regional tournament. They now move on to the next round of regional competition March 13-15 in Easton, Pa.

BrandeisNOW talked with BUMTA President Corey Pilz '09 and Executive Competition Coordinator Julia Simon-Mishel '09 about the Judges winning ways.

BrandeisNOW: What makes the BUMTA so successful?

Corey Pilz '09: I think it's really how close we are as a club. Two or three years ago, we weren't really a cohesive club. Everyone was just put on a team and then they went off. But in the past two years, we've really tried to stress a club-oriented atmosphere. Even though we're on four separate teams, we all help each other out. We do these things called "mock mocks," which is a mock, mock trial and we basically compete against each other as a club and it's also a really nice atmosphere if you don't understand how to do this, because either someone else can help you out or give you a different approach. We really promote a club-oriented atmosphere.

BrandeisNOW: How does mock trial work and how do you prepare?

Julia Simon-Mishel '09: At the beginning of each year, the national association gives us a case packet. This year we have a civil case. It's a defamation claim so each team has a plaintiff side they're preparing and a defense side they're preparing. When we go to competition, our plaintiff side will play a defense side from another team, and in the next round we'll be defense and they'll be plaintiff. There are four rounds, twice on each side. In each round, each team will provide three witnesses and three attorneys. We practice in those attorney-witness pairs because every part of a trial has direct examinations. It's also important to meet as a team constantly so everyone is on the same page, from directs, crosses, openings and closings, so that we're always giving each other feedback.

BrandeisNOW: Tell us about the most recent tournament at Roger Williams.

CP: The recent tournament at Roger Williams was one of our two regional tournaments. In the American Mock Trial Association, you compete in a regional tournament and if you qualify in the top eight, you advance to the open regional championships tournament and then to nationals. At Roger Williams, we had our two teams – "A" and "B" teams – competing in regionals. We placed second in the tournament, which was phenomenal, especially because it was a really tough competition.

JSM: The A team placed second with a record of seven and one. That means they lost one ballot. In each round, there are two judges who are scoring and there are two ballots and your record is determined by how many ballots you won. So we won seven ballots and we lost one.

BrandeisNOW: How does that stack up to what the club has accomplished in the past?

JSM: This is the first time that a Brandeis team has gone to regionals and gotten more than six ballots. Last year we qualified for the first time directly to the national championships with two teams going six and two. This is the first time we've had a team go more than six and two, so that's a great improvement. We've definitely improved a lot over the years and we're probably more competitive this year than we've ever been.

BrandeisNOW: So you have the open regional tournament next?

CP: Yes, the open round championship series. It's March 13 – 15 and it's going to be in Pennsylvania at Lafayette College. We will be sending two teams, which is the maximum amount of teams you can send. There will be 24 teams there. If we qualify in the top six, we will go on to the national championship tournament in Iowa.

BrandeisNOW: How did you do last year in the national championship?

CP: We were one of only eight schools in the country to send two teams to nationals, but it was our first time there and we didn't do so hot. But just being there and experiencing it was really, really beneficial for the club.

JSM: It was the first time anyone in our club had seen that level of competition, so it was definitely a new experience. We learned a lot from last year and we purposely went to Iowa for a tournament in November, because one of the things you learn in mock trial is that the style and what the judges expect is very different in different parts of the country, and we as a northeast team was not as prepared to compete in the Midwest last year. We wanted to have a preview of what they will be looking for come time for the national championship.

BrandeisNOW: You're both seniors. What do you hope to accomplish in your final year as a part of the club?

CP: My biggest hope is that we keep doing what we've been doing for the past year, and that's just good mock trial. That's all we can ask for. This year we have competed so many weekends. We've done about eight invitational tournaments throughout the year. So if we just go in there and keep doing what we've been doing that's all we can really ask for at this point.

BrandeisNOW: How can people get involved in the club?

JSM: At the beginning of each academic year, we have a table at the activity fair, and then we have an open meeting where we hand out applications. In order to be a competitive member of the mock trial and to compete in tournaments, you have to audition for a team. The e-board puts together teams in order to give people the most experience and mix old people with new people, and then at some point during the year we stack to make a competitive team.

CP: We also do a lot of legal-related workshops throughout the year, as well as public speaking workshops and acting workshops, which are open to everyone too.
Return to the BrandeisNOW homepage