'Prospect II' student exhibition runs through April 24
What to expect if you're heading to the post-baccalaureate student exhibitions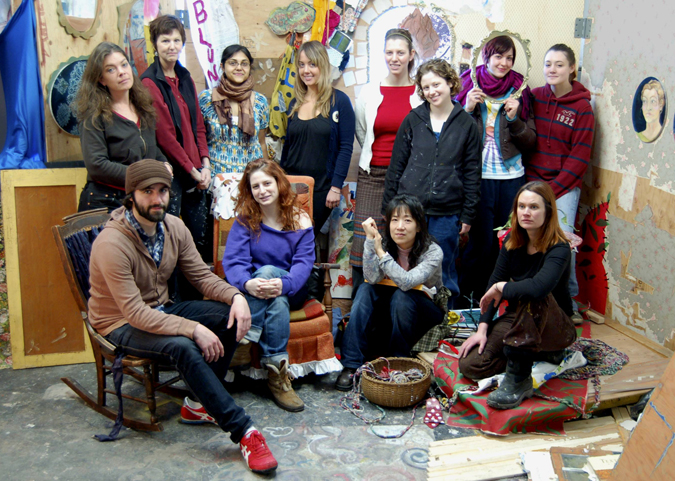 Prospect I: March 18 – March 28
Opening Reception:
March 18, 6 – 8 p.m.
Faith Baum, Adina Bricklin, Tatyana Leykin, Laila Mazer, Arundhati Mohankumar, Gaia Nardie-Warner, Marc Schepens
Prospect II: April 1 – April 24
Opening Reception:
April 1, 6 – 8 p.m.
Kimberly Clark, Elizabeth Davenport, Shira Espo, Youngsheen Jhe, Marta Kaemmer, Amanda Millis, Margaux Ogden, Jean-Jacques du Plessis, John Tronsor
*Shows will be held in the Dreitzer Gallery, located in the Spingold Theater Center
Post-Baccalaureate studio art
students will have the chance to display their work in two exhibitions called Prospect I and Prospect II. According to
Sean Downey
, post-bacc coordinator, both shows will include a substantial selection of individual students work, which collectively represent a wide spectrum from representational to non-representational paintings, as well as sculpture, drawings, prints, and installation art.
BrandeisNOW caught up with
Susan Lichtman
, associate professor and director of the Studio Art Program at Brandeis, for the details.
BrandeisNOW:
Tells us about the Prospect I and Prospect II shows. How were they named?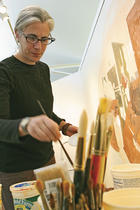 Susan Lichtman:
We've always had a show for the post-bacc students. We used to have one show, and we felt the students couldn't fit enough work to show what they were doing. Many of the painters make large-scale paintings, so if we put all 18 or 24 students in one exhibition, they might only have room for one or two paintings. We decided to split up the group into Prospect I and II to give them a chance to exhibit maybe five or six paintings, as well as drawings and large-scale sculpture.
The art department has a building on Prospect Street in Waltham and we've been there for about 10 years. Both the senior studio majors as well as the post-baccs have individual studios there. It's a wonderful space, a little bit shabby, but it has a great sense of community with a sculpture studio, a little printmaking studio, and individual studios of all different sizes and shapes that are occupied by the post-baccs. They also come up to campus to take certain classes, like printmaking and digital photography.
BN:
Do you find that a lot of people aren't aware that the Prospect Street studio is there?
SL:
I think most people don't know it's there. In fact, even some of the younger art majors have never been there. It's about a 15-minute walk but there's also a bus that makes a loop that can drop people off. We usually keep the doors locked so sometimes you need someone to come with you to let you in to the building. Once you're in there, you'll see it's just a different world of studio art. I feel like the building has just a great sense of creative energy. And the students love it! I wish it was closer to campus so the younger students could constantly see the work of the older students. The post-bacc students serve as TAs in the studio classes. The undergraduates who are just starting out in the department build relationships with the post-bacc students and sometimes they don't actually see their work until they have exhibitions at Dreitzer Gallery. So it's wonderful when the work gets brought to campus for these shows.
BN:
Are people aware of the work these students are creating? What can people expect to see at the shows?
SL:
I think that there are still some people on campus who don't realize how much visual art is created by our students. Brandeis has quite a reputation in the world of fine arts and visual art, and has quite an excellent reputation for being a school that trains artists. The most rigorous graduate programs are taking our post-baccs and our undergrads into their MFA programs. MFA programs are very difficult to get into now. Sometimes one in 40 applicants will be accepted and in order to get in students need a lot of experience and training in whatever medium they're interested in – painting, sculpture or printmaking. So that's why these students come to our program to build their portfolios. Mostly they come from liberal arts colleges, but they also come from art schools.
We use the metaphor "hothouse" a lot because, you know, they start as little seeds and now they're making series of enormous paintings and they just push the language of their work into a new direction that maybe they never even imagined possible six months ago. They're making a variety of kinds of work. A majority of the students are painting – figurative paintings and abstract paintings - we also have students working in sculpture, video, works on paper, big drawings, prints, such as etchings and digital photographs. Usually, students make a body of work where they pursue the same subject matter or motifs in different media: in oil paintings, etchings and collages for example.
BN:
How did you split the students up into the two Prospect I and II shows?
SL:
It was totally random. I think the names were picked out of a hat and then there was a little bit of trading went on. You know, a student would say, "Oh, I really don't want to go first, I really want a little more time," and they trade with someone who actually wanted to do the show first. Usually, each group has its own special flavor. And I just hope that everyone will see both shows so they can see the full spectrum of what the students are doing.
BN:
Do you know what happens to all the work after the show is done?
SL:
Every once in a while somebody approaches a student, someone on campus and says, "Hey, I'd like to buy a piece. I fell in love with your painting or drawing, can I buy it?" And that's really nice because the students need money to buy materials. So people should know that they could always approach an artist and offer to buy something. But otherwise the students just take them back to the studio, and when they leave Brandeis, they might just roll them up and store them.
Return to the BrandeisNOW homepage