New Brandeis University Press publication recalls first NEJS chairman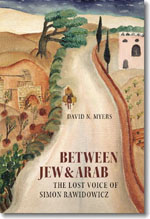 One of the latest books from Brandeis University Press, "Between Jew and Arab: The Lost Voice of  Simon Rawidowicz," is built around a "lost" – or at least unpublished – chapter written by the founding chairman of Brandeis University's Near Eastern and Judaic Studies Department.

Simon Rawidowicz , who died in 1957, is probably best known for his magnum opus "Between Babylon and Jerusalem,"  a classic exploration of the relationship between the Land of Israel and the Diaspora, that stirringly affirms the unity of the Jewish people.

The "lost" chapter – dealing with the moral obligation of the State of Israel vis a vis the Arab refugee problem in the post-1948 world  -- never made its way into print and lay in obscurity for decades. In this latest publication of Brandeis University Press, David Myers, professor of Jewish studies at UCLA, offers an English translation and a thoughtful analysis of Rawidowicz's ruminations on the "Arab Question." The book has already attracted several laudatory reviews:

Read The Jewish Daily Forward review.
Read The Jewish Journal review.
Read information on the book from Brandeis University Press.
Return to the BrandeisNOW homepage