Life lessons Tuesday with Father Walter Cuenin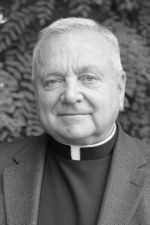 "Tuesday with Father Walter Cuenin
"
When:
Tuesday, March 3, 2009
            4 – 5 p.m.
Where:
Shapiro Art Gallery
What:
In the tradition of "Tuesdays with Morrie," a noted Brandeis chaplain shares what he has learned about life


Rev. Walter Cuenin is the Catholic chaplain and the coordinator of the Interfaith Chaplaincy at
Brandeis University
. He was ordained a Roman Catholic priest at St. Peter's Basilica in the
Vatican
in 1970 and received his doctorate in sacred theology from the
Gregorian University
in
Rome
in 1977. He is a panelist on "Talking Religion" a regular interfaith radio program each Sunday, sharing the program with a Jewish and Muslim leader. He is President of the Massachusetts Bible Society. Father Cuenin has taught at the Weston Jesuit School of Theology and at
Boston College
. He has been an outspoken leader calling for the full inclusion of women in the life of the Catholic church and for the welcoming of the GLBT community.
Join us for a stimulating discussion and refreshments.
Sponsored by the Chaplaincy and the Office of the Dean of Arts & Sciences.
Questions? Contact Marci McPhee mcphee@brandeis.edu or Jess Kent jesskent@brandeis.edu.
Return to the BrandeisNOW homepage