Students are encouraged to 'Give and Go' when they leave campus
Unneeded items will be donated to local agencies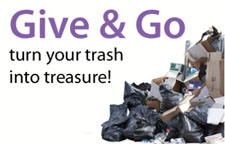 The university's "Give and Go" program helps students help others. When moving out of their dorms, students can drop off unneeded items in good condition at various locations, both on campus and off.

"Most students are a bit overwhelmed when they are moving out- having just completed finals- so we want to make donating items they may not need easy," said Campus Sustainability Coordinator Janna Cohen-Rosenthal. "So, we organized a system where each quad has donation bins" (A list of donation locations is posted on the Campus Sustainability Initiative Web site).

While some of the items will be stored over the summer for resale in the fall, the majority of them will be donated to local agencies.
Items that can be donated include:
•    Clothing, bedding and towels
•    Household goods like dishes
•    Electronics including microwaves, refrigerators and lamps
•    Furniture
•    Books and office supplies
•    Unopened toiletries (not open)
•    Unopened food

"Give and Go" can't take:
•    Anything dirty or broken
•    Open food
•    Mattresses
•    Foam toppers

Donated items will be given to local agencies including More than Words bookstore, Global Thrift Store and the Red Cross Waltham Food Bank.

Students are encouraged to recycle anything they aren't donating. Boxes with spiral binders and staples, etc. can be recycled, as well as any empty containers with a recycle symbol.

The "Give and Go" program is coordinated by The Waltham Group, the Department of Residence Life, Students for Environmental Action, Facilities Services, and EcoReps.

Volunteers are needed to help sort and move the donations. For more information contact Janna Cohen-Rosenthal at  jannacr@brandeis.edu.


Return to the BrandeisNOW homepage