'The Imam and the Pastor' to discuss ethno-religious violence in Nigeria Wednesday
They will answer audience questions following screening of film that details their unlikely collaboration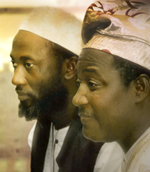 "The Imam and the Pastor" film screening and discussion
Wednesday, May 20
2 to 4 p.m.
Levine-Ross room, Hassenfeld Conference Center
Brandeis University

Former sworn enemies who as youth participated in the ethno-religious violence that plagues Nigeria, "The Imam and the Pastor" have since gone on not only to reconcile with one another, but have joined forces to found the Interfaith Mediation Center in Kaduna, Nigeria. The IMC works to strengthen coexistence among Muslims and Christians throughout Nigeria and increasingly, in other parts of the world.

Imam Muhammad Ashafa and Pastor James Wuye will talk about their journey at Brandeis on Wednesday, May 20.

Following the presentation of "The Imam and the Pastor," a documentary film that tells the amazing story of these two courageous personalities, their personal journeys towards reconciliation, and the work they perform today as peacemakers, Pastor James and Imam Ashafa will participate in a question and answer session with audience members.

"Conflicts that run along the lines of religious-identity are often both deeply personal and seemingly intractable," said John Lewis Moore, program manager of Coexistence International at Brandeis. He continued: "This is a unique opportunity to engage one-on-one with peacemakers who, as former leaders of opposed armed religious groups, are intimately familiar with the fear and hatred that accompanies such conflict, and to learn more about what it took for them to not only overcome these powerful feelings and reconcile, but choose to work together towards strengthening peaceful coexistence in Muslim and Christian communities throughout Nigeria. There is much we all could learn both in terms of the work they do and in how they manage their relationship with one another to this day."

Click here to watch a clip from the movie.

For more information please email coexistenceintl@brandeis.edu.

This event is co-sponsored by Cooperative Metropolitan Ministries (CMM), Brandeis Interfaith Chaplaincy, the BUILD (Brandeis University Interfaith Leadership Development) Fellow Program, the International Center on Ethics, Justice, and Public Life, Coexistence International, and the Graduate Programs in Dispute Resolution at the University of Massachusetts, Boston.


Return to the BrandeisNOW homepage