Supreme Court nominee writes on international justice in book by Ethics Center authors
Sonia Sotomayor shares her views in 'The International Judge' by Daniel Terris and Leigh Swigart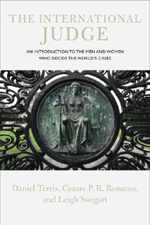 Judge Sonia Sotomayor, President Barack Obama's nominee to the U.S. Supreme Court, called on U.S. judges to learn from their peers on international courts and tribunals in the foreword to "The International Judge,' a recent book coauthored by International Center for Ethics, Justice, and Public Life Director Daniel Terris and Leigh Swigart, director of the center's Programs in International Justice and Society (a third coauthor, Cesare P.R. Romano, is associate professor of law at Loyola Law School Los Angeles).

Nominated to fill the vacancy left by the retirement of Justice David Souter, Sonia Sotomayor currently serves as a judge on the Second U.S. Circuit Court of Appeals.

"Sotomayor's nomination represents a huge step forward for American law," says Terris. "Her openness to learning about and learning from international courts will encourage U.S. judges to make careful and appropriate use of the collective wisdom of the global legal community."

In her foreword, Sotomayor cites commonalities between U.S. and international judges, noting that they both can confront and address the same issues. In addition to the "question of how much we have to learn from foreign law and the international community when interpreting our [U.S.] Constitution," she writes, "we should also question how much we have to learn from international courts and from their male and female judges about the process of judging and the factors outside of the law that influence our decisions."

Sotomayor, who was raised in a Bronx public housing project and graduated from Yale Law School, says that "The International Judge," published by Brandeis University Press, "reveals the extent to which all courts, no matter what their provenance or jurisdiction, are in large part the product of their membership and their judges' ability to think through and across their own intellectual and professional backgrounds, to reach some juncture of consensus and cooperation in which a common language is used to articulate the rules and norms that bind their communities."

For more information on the book, which Sotomayor calls "an illuminating discussion of the politics and pragmatics of developing an international rule of law and institution-building," click here.


Return to the BrandeisNOW homepage