Marian Anderson documentary illuminates major chapter of civil rights history
Film features Music Professor Keiler and many Brandeis connections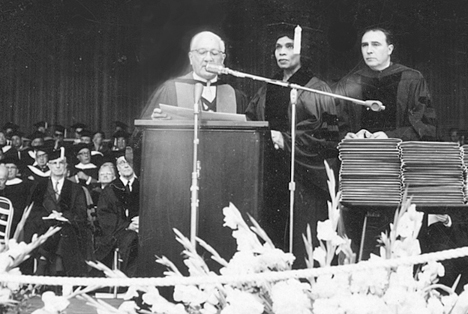 A new documentary film on black opera singer Marian Anderson reintroduces her to a generation that may not remember the role she played in the country's civil rights history – and provides an opportunity to retrace her many Brandeis connections.
Music professor Allan Keiler, a biographer of Anderson, is prominently featured in the production.  
Anderson, who received an honorary doctorate of humane letters from Brandeis in 1960, played a central role in awakening the conscience of the nation when in 1939, despite her international stardom in the opera world, the Daughters of the American Revolution refused to allow her to perform at Washington D.C.'s Constitution Hall. 
That affront prompted First Lady Eleanor Roosevelt to draft a letter of resignation to the DAR which read in part:   "You have set an example which seems to me unfortunate, and I feel obligated to send in to you my resignation.  You had an opportunity to lead in an enlightened way and it seems to me that your organization has failed."
Civil rights activists promptly arranged for Anderson to appear before her growing ranks of supporters on the steps of the Lincoln Memorial on the National Mall.  There – tall, serene, her eyes closed – Anderson sang "My Country, 'Tis of Thee" in a clear, silky contralto in the shadow of the statue of Abraham Lincoln. It was Easter, and a crowd of 75,000 people, black and white, jammed the mall dressed in their Sunday best. Some stood up on tip-toes to catch a glimpse of Anderson.
Anderson's story is being retold in a television documentary, "Marian Anderson: A Song of Dignity and Grace," released this summer, that features Brandeis Music Professor Allan Keiler, author of the biography "Marian Anderson: A Singer's Journey."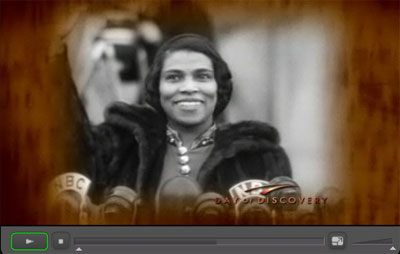 Keiler was a young boy at the time of the Lincoln Memorial concert, but says he grew up idolizing Marian Anderson.  He says he saw her perform twice.  The first time was in Detroit in 1956, when Keiler was a college freshman.  The second was during Anderson's farewell tour in 1964-1965.  Keiler was in the audience for her Ann Arbor performance.  He describes it as "her penultimate concert."  "You could hear a pin drop in the house." Keiler remembers.  "Only twice in my life have I seen people rise to their feet like that as she came on stage – for Igor Stravinsky and Marian Anderson."  Adding, "Everyone rose at once.  It was very moving."
Anderson first met Roosevelt when she sang at the White House in 1936. Three years later, in the wake of Roosevelt's resignation from the DAR and Anderson's famous Lincoln Memorial concert, Roosevelt presented Anderson with the highest honor bestowed by the National Association for the Advancement of Colored People (the NAACP), the Spingarn Medal.

The two women's paths would lead them both to Brandeis in the following decades.  Ten years after the historic concert, in 1949, Eleanor Roosevelt began her 13 year tenure on the Brandeis Board of Trustees.  In 1954, Roosevelt received an honorary Doctorate of Humane Letters from Brandeis. She then hosted a WGBH public television series, filmed on the Brandeis campus, titled "Prospects of Mankind," which may be viewed at the Brandeis archive.
In 1960, Roosevelt became a lecturer on World Law and Brandeis, preferring not to be called "professor" and telling the New York Times that, "those students certainly do their reading."  That same year, Marian Anderson responded to an invitation from Brandeis to receive an honorary Doctor of Humane Letters degree.  On stationery from Trinidad, in elegantly measured cursive, she wrote that she hoped that it was not too late for her to come to campus, that cancellation of a leg of her world tour schedule allowed her to be at Brandeis for commencement. Anderson was in good company.  Among the other honorees that year: Artist Marc Chagall and Medal of Freedom winner Ralph J. Bunche, the first African American to be awarded the Nobel Peace Prize.
After hearing Marian Anderson perform in Salzburg, the great conductor Arturo Toscanini is widely credited with telling her, "What I heard today, one is privileged to hear only once in 100 years."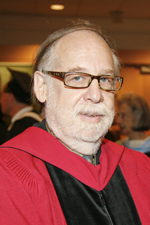 For Professor Keiler, it is important that Marian Anderson be remembered not just for her association with the struggle for racial justice, but for the great artist that she was.  He says this sentiment was shared by Anderson's nephew, James DePreist, an accomplished musician in his own right.  DePreist, Director of Conducting and Orchestral Studies at the Juilliard School, cared for his Aunt Marian in her final days.
Keiler says that by the time he approached the family about writing Ms. Anderson's biography, other would-be biographers from other disciplines had been turned away, but his credential as a professor of music at Brandeis, gave him entrée.  He says he wrote his biography, "Marian Anderson: A Singer's Journey," in order "to bring back her greatness as a singer."
While Marian Anderson's Lincoln Memorial Concert undeniably advanced the cause of civil rights, Keiler notes that "she wasn't a fighter.  Not like Paul Robeson.  She was quiet.  She did more by example than by yelling and screaming."
Keiler says Anderson, as a person whose mother who scrubbed other people's floors and who dealt directly with the reality of segregation, had great empathy.
"Her background experience is very much like the Jewish experience," Keiler said. "She went to Israel in 1953.  She was one of the first to perform there after the State of Israel was founded.  She could identify with that, because she was of a people afflicted by prejudice."
Keiler noted that "she turned over a lot of her fees for scholarship funds for young Israeli singers, since she was turned away for being black herself.  These are Brandeis values.  She represented a great many things that Brandeis stood for."
 -----------
Also of interest is the book "The Sound of Freedom: Marian Anderson, the Lincoln Memorial, and the Concert that Awakened America," by Brandeis alum Raymond Arsenault MA'74, PhD'81.
Return to the BrandeisNOW homepage