Upward and onward: First-years arrive on campus
The 761-strong class of 2014 holds the distinction of being the most international incoming class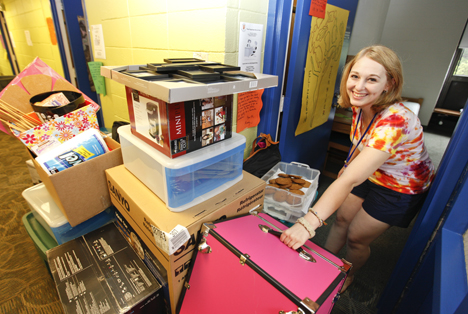 A cloudy, rainy day did little to dampen the spirits of 761 first-years who descended Sunday on the Brandeis campus, lugging soggy boxes into residence halls and launching their college careers.
An "it takes a village" atmosphere pervaded the campus where, under leaden skies, 109 orientation leaders sporting bright blue shirts cheerfully unloaded minivans, pointed families in the right direction, and overall made the day go smoothly. Their theme for this year's orientation: "Shift Into Overdrive."
"You are in for the best four years of your life," Brandeis President Jehuda Reinharz said in welcoming remarks to the incoming students and their families. "The Brandeis plan," he said, "is to make sure that each and every one of you succeeds. We have invested a great deal in you already. We can assure you that because you are here today, you fit perfectly and the university fits you perfectly."
Reinharz, who after sixteen and a half years will be leaving Brandeis in January, went on to say that he wanted to give assurance that, "Brandeis is in great shape. It's never been in better shape than it is today. Physically, economically, intellectually — in every way you can think of."  President-elect Fred Lawrence, dean of the George Washington University Law School, was then introduced by Reinharz to sustained applause.
With 16 percent of first-year students holding foreign passports, the class of 2014 has the distinction of being the most "international" ever on the campus, up from seven percent in 2008 and 15 percent in 2009. Students hail from 86 countries and 48 U.S. states. Fifty-four percent of the class is female, 46 percent is male. There are 81 transfer students.
Reinharz joked that he always gives two pieces of advice to incoming families. "I want all the freshmen to call home on a regular basis," he said, to laughter and applause which, he pointed out, came mostly from the parents. He then followed up with advice for the parents, which was met with equally enthusiastic applause from the new students, "Don't call too often."
Rick Sawyer, dean of Student Life, addressed the first-years directly. "What about your record?" he asked.  "Maybe you earned straight A's, or maybe you were first-chair violin in the school orchestra. Congratulations. Now you are sitting next to someone who struggled. On the other side of you someone who didn't have the same opportunities, who might have been distracted or who had competing priorities, or someone whose own health or family member's health created an unexpected priority." Sawyer concluded, "From up here, you all look the same to me. Big school, small school. No matter what you did or where you are from, you all, every one one of you, start today in the same place. You are all the best in our eyes. Forget the past. That is for the yearbook on your shelf.  Now is the time to sharpen the pencil and start to write a new book."
Photos by Mike Lovett.
Return to the BrandeisNOW homepage