Friedman, Sandel talk of old times, new trends at forum honoring Reinharz
Famed columnist and renowned political philosopher both were honors grads in Class of '75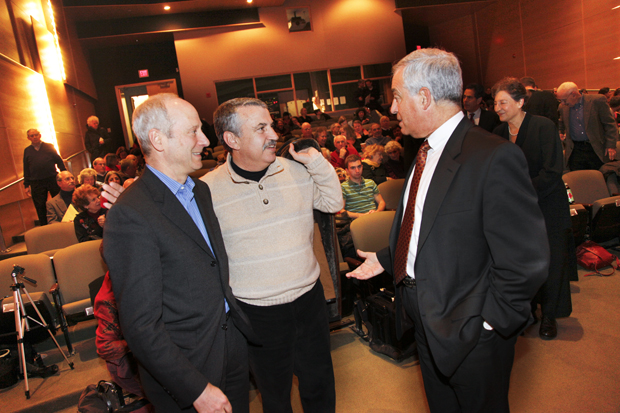 Renowned political philosopher Michael Sandel and famed journalist Thomas Friedman reminisced about student days at Brandeis, spoke of how they found their callings and opined on prospects for social justice in the age of globalization in a public conversation Dec. 15 arranged by the Faculty Senate in honor of retiring President Jehuda Reinharz.
Sandel, a professor of government at Harvard and originator of "Justice," one of the most popular courses in that university's history, and Friedman, three-time Pulitzer Prize winner and columnist for the New York Times, both graduated from Brandeis summa cum laude in 1975.   But, they told the appreciative crowd in the Shapiro Campus Center theater, their friendship began when they were boys in St. Louis Park, Minnesota.
Sandel and Friedman fell out of touch when Sandel's family moved to California when he was 13. They next met, Sandel recalled, when he "was walking up the hill to Usdan. Someone said 'Michael Sandel? From St. Louis Park?' and it was Tom." Since then, they have discussed, debated and sometimes disagreed, as was evident in their consideration of globalization – a subject each has written and taught about extensively.
 "If you believe it's all good or if you believe it's all bad, you don't get it," Friedman said. "It is incredibly empowering, and incredibly disempowering. It is incredibly enriching in the financial sense, and incredibly impoverishing at the same time. To me, politics is about how we get the best out of it and cushion the worst."
"That's one strain that you and I have argued about," Friedman said. "The other is … I do believe that growth, economic growth, not unbridled, certainly not indifferent to the environment, has led to a lot of good things. Without it, there's really just a conflict over scarce and diminishing resources.
Sandel responded that "if we look at the 35 years since we left this place, what's happened in the world is that we've had a period of what I would see as a kind of market triumphalism" that began in the era of President Ronald Reagan and British Prime Minister Margaret Thatcher and was consolidated in the era of Bill Clinton and Tony Blair.
These political leaders' core idea was that "markets are the primary instrument for achieving the public good," he said. The general agreement on this point led to a "shrinking of the purpose of democratic governance, and leaves out of account an important range of purposes of government.
"And so the progressive case for democratic governance was muted and obscured and lost during the 1990s," Sandel said. "In the U.S., in the social democracies of Europe, there was an exhaustion of the sense of democratic purpose. The open question now is whether the financial crash will represent the end of this period of unquestioned market triumphalism, and generate a new debate about what the public good consists of and what democratic purpose should be."
Friedman replied: "I'm more and more worried about our country as the exporter of those values you're talking about, as the beacon of those values you're talking about, and I am more and more of the belief that if we go weak as a country, the kids won't just grow up in a different America, they'll grow up in a different world." But, he said, he wanted to see Sandel's specific plans for change before signing on, lest those changes have the sort of unintended consequences that unbridled markets had.
Sandel responded that, unlike the period from the end of World War II to 1979, when the benefits of growth were evenly distributed in the United States, since 1980 "almost all of the economic growth has gone to the top 20 percent (of the population) and the bottom 80 percent have received, net, zero. So the case for economic growth is important, but how that economic growth is distributed is a political question as well as an economic one."
Early Brandeis history
The Friedman-Sandel conversation was preceded by a talk about the early history of Brandeis by Stephen Whitfield PhD '72, Max Richter Professor of American Civilization.
Titled "Weimar in Waltham," Whitfield's talk probed the influence of German Jewry of the Weimar period on the founding culture of the university. Whitfield focused on the ideal of "Bildung," the sense that a well-conducted life had to honor the sublime legacy of Western civilization itself, and thus required refinement of taste and intensification of education through explorations of the heritage of thought and art.
Whitfield explained what these ideas had to do with Albert Einstein's early advocacy of creating a Jewish-sponsored secular university, and how they led to Einstein's early disassociation from the founding effort.
"Albert Einstein was … the first in line of those critics, whom all seven Brandeis presidents have encountered," Whitfield said. "For Einstein, the institution was not liberal enough. For others, it would be too liberal. For some, too Jewish, for others – including Einstein – it was not Jewish enough."
Whitfield also spoke in detail about Herbert Marcuse, "the most famous German-born Jew ever to teach at Brandeis." Marcuse came to campus in 1954, and became an ideological leader and icon of the New Left movements of the 1960s. Placed in the pantheon of radicalism alongside Marx and Mao, Whitfield said, Marcuse was also "the only past or present Brandeis faculty member ever to be explicitly condemned by the Vatican.
In conclusion, Whitfield told of how "The Threepenny Opera," by Kurt Weill and Bertolt Brecht, initially failed on the American stage and was not performed in this country for nearly two decades, until it was revived at the first Festival of the Arts at Brandeis in 1952.
"Not for the last time in the history of Brandeis University did vaulting ambition outstrip the budget," Whitfield noted, to much laughter. More seriously, he explained that the revival involved political risk, for the story is a savage satire that pictures capitalism as a criminal enterprise, and this was the height of the a period of anti-communist witch-hunts in the United States. Leonard Bernstein, the first chairman of the School of Creative Arts, was on the FBI's security index, and had been blacklisted by some media.
But the revival was a smashing success and Bernstein went on to become a dominant figure in American music.
Thus, concluded Whitfield, Brandeis simultaneously established its identity and "breathed life  into the endangered legacy of Weimar culture, a culture that was inflected both with the spirit of Jewishness and with an edge of dissidence."
The event ended with President Reinharz's recollections of his early years on campus.
"I didn't know how smart my move to Brandeis was when I came here in 1968. Shula persuaded me," he said, nodding to his wife sitting in the front row. "It was the smartest thing I ever did."
Return to the BrandeisNOW homepage