Lawyer, Scholar, Teacher: Getting to know Fred Lawrence
Fred Lawrence is a highly successful law school dean, an outstanding attorney and an unfailingly polite gentleman.
So in March, when the student American Civil Liberties Union chapter at the George Washington University Law School posted flyers that used a profane word in the headline, some expected the dean to order them taken down. Others, reflecting on Lawrence's work on free expression and civil rights, were not surprised when he decided not to intercede.
"If free speech should flourish anywhere, it is within the halls of a university," Lawrence explained on his blog, in an entry titled "Putting the F in Freedom of Speech."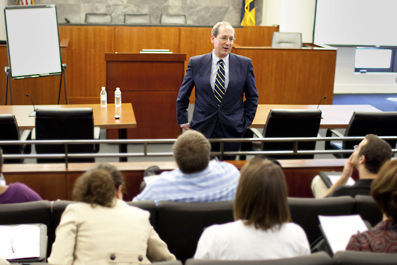 Lawrence reasoned that the limit of First Amendment protection of free speech is where speech that is hurtful to people's sensibilities or to the civility of the environment becomes threatening. The ACLU flyer did not threaten anyone and, therefore, it should be treated as protected speech.
Lawrence continued in a vein that may prove illuminating to Brandeisians curious about what their new president's approach to issues will be.
"There is a big difference between what we can do and what we ought to do," he wrote on the blog, a communications vehicle he intends to continue using at Brandeis. "There is much expression that is protected but that we would well do without…I personally prefer 'good taste' to 'in your face,' and I thought the flyer was in bad taste."
It was pure Fred Lawrence, start to finish: The cool, lawyerly analysis of the rules, the values-laden judgment of a person who passionately embraces moral as well as legal principles, the tone of a teacher.
"Fred has many, many qualities to be the president of a great university — the quality of leadership, the quality of personality, the quality of knowing what scholarship is, the quality of knowing the importance of fundraising," says Guido Calabresi, a friend and mentor of Lawrence's who was dean of the Yale Law School before becoming a judge on the U.S. Court of Appeals for the Second District.
"What strikes me, as a former dean, is his capacity to make all sorts of events, positive or negative, into teaching moments — moments in which you can learn what education and legal studies are about, how values intertwine within them, and how you must use them to teach first the kids, and then all the others concerned, what a university is about," Calabresi adds.
Frederick M. Lawrence grew up the youngest of three brothers in Port Washington, N.Y., on the north shore of Long Island — the area fictionalized as East Egg in F. Scott Fitzgerald's classic "The Great Gatsby."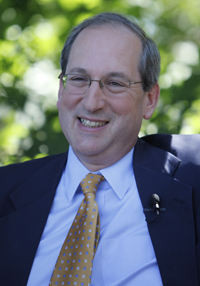 His father, from the Flatbush section of Brooklyn, was a chemical engineer who worked on the Manhattan Project, through which the United States developed atomic weapons during World War II. His mother, who grew up in Queens, was a high school English teacher. They were among the founders of the Reform Jewish congregation that the family attended.
Fred played French horn and sang in the chorus through high school and at Williams College, which he entered in 1973. His older brothers had gone to Cornell and Amherst. "I saw both and knew a small liberal arts school was what I wanted," he says. Why Williams rather than Amherst? "Well," he shrugs, "Williams was coed. Who knows how these decisions get made?"
As an undergraduate, Lawrence majored in political economy, a course of study that at Williams heavily emphasized public policy under the influence of faculty members who had worked in Washington during Franklin D. Roosevelt's New Deal. "Their idea — and mine — is that the political system is most fully understood through how it affects economic relations in a society, and the economy is best understood as part of a political system," he says.
Studying law was a possibility he considered throughout his undergraduate years, in part because lawyers seemed to be playing a significant role in the issues on which he was focusing — the legislation and litigation through which the civil rights movement was changing the country. But he decided on that course only at the last minute, after being admitted both to law school and graduate schools in public policy and economics.
"The use of law as an instrument to effect social change was very exciting to me, but so was the prospect of teaching," Lawrence says, noting there were a lot of teachers in his family, including his mother and both of his father's parents. "In my family," he says, "teaching was always thought of as the 'noble profession.'" He decided on Yale Law School because of its blend of legal training and advanced academic study.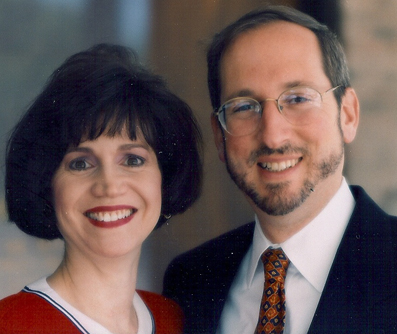 During his time at Yale, his law school classmates included Supreme Court Justice Sonia Sotomayor, Harvard Law School Dean Martha Minow, noted copyright expert David Nimmer, and Brandeis Professor Anita Hill — with some of whom he has been in touch ever since, and with others of whom he now is enjoying a reunion.
Minow's contact with Lawrence has been continuous, for professional, and, more profoundly, for personal reasons.
"Fred is someone with strong interest in the areas of hate crimes and intergroup relations. He has done distinguished work in that field, both domestically and comparing U.S. and other legal systems," Minow says. "Our conversations about that have been instructive to me, and it's a conversation I look forward to continuing. But the friendship is much deeper. Fred is a three-dimensional human being, someone you want to be friends with."
Hill, who is professor of social policy, law and women's studies at the Heller School for Social Policy and Management, reconnected with Lawrence during the search for the new Brandeis president.
"One of the things I was impressed by, when I saw Fred in the interview process, was that he viewed all of us as members of a learning community, all members of the Brandeis family in the most positive sense — that we all belong here, that we all have something to offer, that we all can benefit from the experience," says Hill.
Looking back to law school days, she recalls, "All our classmates were really bright, but there was a real sophistication to Fred's intellectual capacity that was impressive. He did not talk about law endlessly. There was interest in literature and arts that was interesting and a little different from some of our classmates."
In addition to Calabresi, influential faculty members included Robert Cover, author of the famed essay "Violence and the Word," and Peter Schuck, a proponent of "militant moderation."
Another important mentor at Yale was Arnold Jacob Wolf, the Hillel rabbi, whose Friday night Torah commentaries were electric, and who introduced Lawrence to his wife, Kathy. Kathy received a bachelor's degree in English from Yale, where she studied with Harold Bloom and Louis Martz. She taught high school English while Fred finished law school. They were married in the summer of 1980 in her parents' home in Beverly Hills.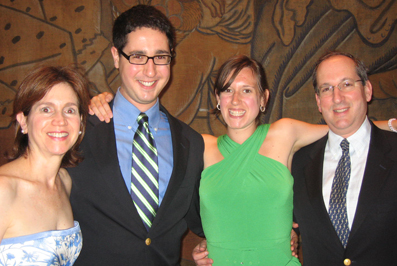 After one year in Connecticut — during which Lawrence clerked for Judge Amalya L. Kearse of the U.S. Court of Appeals for the Second Circuit — the couple moved to New York. Fred entered private practice, then served as an assistant U.S. attorney in the U.S. Attorney's Office for the Southern District of New York under Rudy Giuliani, who named him head of the office's civil rights unit. Kathy received a master's degree in English from New York University, where she studied under Kenneth Silverman.
While in New York, Lawrence continued to sing seriously. With the New York Choral Society, he performed in Carnegie Hall, Lincoln Center and the Kennedy Center, but he withdrew from serious singing after the births of his daughter, Miriam, and son, Noah, trading time spent at rehearsals and performances for time spent with the children.
"The time at the U.S. Attorney's Office was spectacular — I was stretched intellectually, stretched in terms of responsibility," Lawrence says. "The civil rights bar was doing a good job in civil cases, but there is no private bar in criminal cases. This is where my interest in criminal civil rights issues started; this is what got me interested in hate crimes."
Understanding and prosecuting hate crime would become the primary focus of Lawrence's scholarly research and writing, and the desire to pursue these issues led him to move from practice to the academy. He tells the story of working on a set of jury instructions while prosecuting a criminal civil rights case involving excessive use of force by correctional officers.
"The instructions were very hard to write, and I soon realized it was because the law in that area was a mess," Lawrence recalls. "I could not give the issues all the work they needed because the instructions were due to the court on Thursday at 5:00. Maybe that's when I knew for sure that I wanted to be a scholar. The lawyer works on the question until it's due; the scholar works on it until it's done."
The Lawrences explored several possible moves after Fred received a number of law school teaching offers; they settled on Boston.
"The constellation of Boston as a place to live, universities where Kathy would be able to pursue graduate work, and a wonderful law school at Boston University for me to teach at made a good fit," Lawrence says.
He had not been in Boston long when he got a call from the late Lenny Zakim, the New England Anti-Defamation League director renowned for his efforts to organize communities against racial and ethnic hatreds.
"Lenny was a master at finding the right project for you," Lawrence recalls. "He'd call when you absolutely knew that you couldn't take on a single additional thing and he'd say, 'Here's something I think you should work on that you'd be very interested in,' and you'd hear yourself saying, 'Sure, I'll do that.'"
Lawrence's subsequent involvement with the regional ADL led to membership on the Massachusetts Attorney General's Hate Crimes Task Force and the regional ADL board, to chairmanship of the ADL's National Legal Affairs Committee, and to co-authorship of numerous amicus curiae briefs submitted to the U.S. Supreme Court by the organization.
During the years in Boston, Lawrence established himself as one of the leading scholars in the study of hate crimes. His book "Punishing Hate: Bias Crimes Under American Law" was published by Harvard University Press in 1999 and remains a major work in the field. He lectured and taught internationally, receiving a Ford Foundation grant to study bias-motivated violence in Great Britain, and he spoke at two meetings of the Organization of Security and Cooperation in Europe that focused on hate crimes, first in 2004 as a member of the American delegation, and then in 2009 when he delivered the keynote address. In 2009 he edited one of the volumes of the five-volume seminar treatise, "Responding to Hate Crime."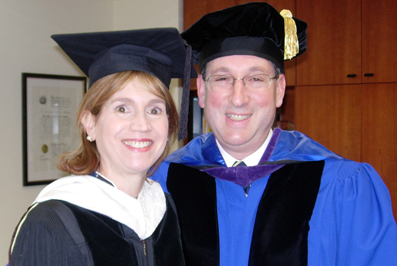 Kathy Lawrence received her master's degree in English from New York University and earned a doctorate in American studies at Boston University, where she studied with Susan Mizruchi. Miriam and Noah attended Milton Academy, from which they graduated in 2002 and 2005 respectively.
Lawrence served on the Boston University School of Law faculty for 17 years. From 1996 to 1999 he was the associate dean for academic affairs. "I enjoyed my years as academic dean immensely," he says, "and I knew that if the right opportunity came along I would return to academic administration."
The right opportunity came along at just the right time. In 2005, the same year that Noah, the Lawrences' younger child, was about to go off to college, the deanship at the George Washington University Law School (GW) in Washington, D.C. came open. The Lawrences moved to Georgetown, and Fred began his deanship while Kathy joined the GW English department.
"The five years as GW law school dean have easily been the most satisfying experience of my professional life to date," Lawrence says. "To be part of a great faculty in a great community and play some part in building both has been inspiring."
Over those years, the GW law school has tripled its financial aid budget, bolstered an already strong faculty and recorded the best fundraising record in its history.
The school expanded internationally, particularly in India, where GW helped arranged for U.S. judges, scholars and attorneys to work on a major revamping of intellectual property laws. During Lawrence's years as dean, GW Law has established partnerships with Aligarh Muslim University, the India Institute of Technology and the National Law School of Delhi.
Aware of the Brandeis India Initiative, Lawrence says, "I very much hope to use the connections I have made to India to help Brandeis continue to build in that direction."
On a more general level, he says he looks forward to developing and capitalizing on Brandeis' existing strengths, foremost among these its identity as a research college and a teaching university.
"In American higher education, mostly we see small colleges that can't do research at the highest level, and research universities that divert money from undergraduates to fund research," he says. "You want to have an environment in which you are taking teaching seriously and also having a significant research impact on the wider world. There are not that many universities that can legitimately claim to do both those things, and Brandeis is one of them.
"This is a critically important mission in higher education today. Building and maintaining the research college is one of the most attractive things about this opportunity for me. I'm not sure that this research college concept is as well understood by applicants to college today as it should be," he says, adding that expanding awareness of this concept could broaden the base of applicants to the university.
In discussions with trustees, faculty and students that led to his designation as president, Lawrence said he viewed the post as a "calling." This is what he meant:
"It is hard for me to imagine another position in American higher education that so pulls together the most important parts of my life — teaching and research at the highest level, and roots in the Jewish community. My roots in the Jewish community have never been narrowing, but have been universalistic and connecting. The notion of a nonsectarian university with deep roots in the Jewish community does not strike me as a paradox. It is my story."
Return to the BrandeisNOW homepage