BTC will present 'Cocktail Time in Cuba' March 11-14
"Cocktail Time in Cuba"
By Rogelio Martinez
A new play produced in cooperation with Primary Stages in New York
Directed by Ari Edelson
March 11-14, 2010
Laurie Theater
Tickets: $10 at Brandeis Tickets or 781-736-3400

WALTHAM, Mass.— In its 25 seasons, Primary Stages, one of New York City's pre-eminent Off Broadway theaters, has collaborated with such acclaimed playwrights as Horton Foote, Terrence McNally, A.R. Gurney, Tina Howe and Lee Blessing. Now, thanks to a new partnership between the Brandeis Theater Company (BTC) and Primary Stages, Boston audiences will get a chance to see new work from one of today's most promising talents.
 
"The challenges of mounting a new play are substantial; the goal of this project and partnership is to teach actors and designers how new plays develop," said BTC Managing Director David Colfer. "The focus of the effort has been working with playwright Rogelio Martinez on his script, while creating a world of the play through essential scenic, lighting, costume and sound elements. Rogelio is a young, prominent playwright and Brandeis is thrilled to have the chance to work with him, and guest director Ari Edelson, who has a successful track-record of developing new plays."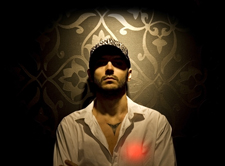 From March 11-14, 2010, the BTC will stage a new play from Martinez, who is a member of Primary Stages' Dorothy Strelsin New American Writers Group, and a teacher at the company's School of Theater. In Martinez's "Cocktail Time in Cuba," Michael, an American journalist, travels to Cuba in 2006 with hopes of interviewing Fidel Castro, who has recently disappeared from public life. First, he must navigate a labyrinth of quirky bureaucracy, and Cuba eventually casts a hypnotic spell on Michael, luring him away from a life and a world he thought he knew and loved.
 
The workshop-style production will focus on the script and story.
 
Click here to read a column about "Cocktail Time in Cuba" that Rogelio Martinez wrote for the new issue of State of the Arts magazine, and a column from Primary Stages' Managing Director, Elliot Fox '87, regarding the new BTC-Primary Stages collaboration.

This production is made possible through generous support from the Harold and Mimi Steinberg Charitable Trust, The Brandeis Arts Council, The Jaffe Foundation and the Herbert and Kim Marie Beigel New Play Fund.
 
Performance schedule
Thursday, March 11 at 8 p.m.
Friday, March 12 at 8 p.m. 
Saturday, March 13 matinee at 2 p.m.
Saturday, March 13 at 8 p.m.
Sunday, March 14 matinee at 2 p.m.

No discounts are available for this production.
 
Tickets are $10 and can be purchased through Brandeis Tickets, located in the Shapiro Campus Center and by calling 781-736-3400 or on-line at the Brandeis Tickets Web site.
Return to the BrandeisNOW homepage