Upcoming campus events will benefit the university's Haiti Relief Effort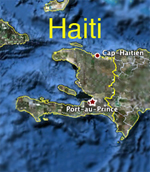 Students and faculty who are actively working on the Brandeis Haiti Relief Effort (BHRE) are redoubling their fundraising and educational efforts with a series of four programs over the next eight days.
 
The events include performance, poetry, and a talk by the director of the Washington-based Council on Hemispheric Affairs on "Why Haiti Suffers."
 
Shaina Gilbert '10, co-chair of the BHRE, praised the sustained effort by many different Brandeis organizations.
 
"I am really excited. This is the first time since I have been at Brandeis that I have seen the community collaborate on such a large scale," Gilbert said. "I am very proud of the school, its students, and the continuing efforts of all to support this cause. It is a shining example of what Brandeis is all about."
 
So far, the Brandeis Haiti Relief Effort has raised more than $13,000 for current and future building and rebuilding projects in the earthquake-stricken nation.
 
On Thursday, March 11, "Voices of Haiti," a celebration of Haitian culture and literature sponsored by the Department of English, will present a program of prose and poetry from 9-11 p.m. at Chum's Coffeehouse. A suggested donation of $2 is payable at the door. Authors to be read include award-winning Edwidge Danticat and the former president of Haiti, Jean-Bertrand Aristide.
 
Also on Thursday night, the club Liquid Latex, a collaboration of designers, painters, choreographers, models, and students from all parts of the Brandeis community, will stage its annual show from 8-11 p.m.in Levin Ballroom. This year, a portion of the proceeds will go to Haiti relief.
 
And Saturday, March 13, there is Pachanga– the biggest party of the Brandeis social year– from 9 p.m. to 3 a.m. Sunday morning, in Levin Ballroom. This year, all proceeds will go to Haiti relief. The last opportunity to buy tickets will be from noon-2 p.m. and 6-8 p.m. on Thursday.
 
Next Friday, March 19, Larry Birns, director of the Council on Hemispheric Affairs, will speak on "Why Haiti Suffers: U.S.–Latin American Relations Leading to the Obama Era" at an event sponsored by the Graduate Programs in Sustainable International Development in The Heller School for Social Policy and Management.
 
Birns' talk begins at 12:15 p.m. in the Heller School's Glynn Amphitheater. More details will be posted on BrandeisNOW next week.
Return to the BrandeisNOW homepage