Alim and Fargana Qasimov will teach you how to listen with your soul
March 4-6 MusicUnitesUS residency culminates with Saturday's world music concert
MusicUnitesUS, the novel Brandeis program that aims to further the understanding and appreciation of diverse cultures through music, welcomes Azerbaijani vocalists Alim and Fargana Qasimov to campus for a March 4-6 residency that will feature a series of public events including open classes and a world music concert on Saturday. For a complete list of residency events, and more information about MusicUnitesUS, read the press release. For March 6 concert tickets, visit the Brandeis Tickets Web site, or call Brandeis Tickets at 781-736-3400.
The following article, by MusicUnitesUS Director Judith Eissenberg, was published in the spring issue of State of the Arts magazine.
Learning to Listen with my Soul
 
I listen with attention and wonder to Mualif, the fifth piece (shu'be) in a mugham chargah suite sung by Alim Qasimov and his daughter, Fargana, who will present a joint world music concert at Brandeis on March 6. Everything that has come before—captivating rhythmic patterns, vocal melismas that increase in speed and complexity, the edging away from the traditional drone—has built to this place where some sort of spiritual alchemy happens.
 
"The way I sing and the way I improvise represent my soul at that moment. They represent my hal: the state of my soul."  —Alim Qasimov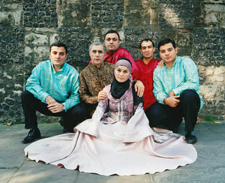 Hal, an Arabic word that is also commonly used in Persian and Turkic languages, has strong associations with Sufism, the mystical dimension of Islam. For Sufis, hal is a state of spiritual awakening that creates an openness to the mystical presence of the divine. Qasimov says, "When I meet with the musicians in my ensemble, it's almost like a gathering of dervishes. There's an atmosphere that starts to nourish us that comes from beyond our own will, and that's the source of the unpredictability in our music. It's almost a feeling of ecstasy that leads to some kind of meditation. There isn't any point in performing mugham without hal."
 
Listening to Alim and Fargana, and the musicians who accompany them on balaban, tar, and kamancha, is an exhilarating experience. It is simply some of the most daring, passionate, virtuosic music making I have ever heard in a lifetime of performing and listening to music. The words "innovative" and "improvisatory" are so terribly insufficient to describe their artistry, which seems to invent a whole new music, a new language. Risk-taking is exquisitely balanced with discipline, the experience heightened by the deep connection between the musicians. Perhaps it is the closeness of father and daughter; Alim and Fargana seem to read each other's minds and listen with their souls. I want to listen like that, with hal, with my soul.
 
"Mugham is an elite art," Alim says. "It's for a select group—for people who have some kind of inner spirituality, who have their own inner world. These days 'elite' refers to something more commercial than spiritual—for example, to the kind of people who can buy a new car every year. But that's not what I have in mind. An elite person is one who knows how to experience, how to endure, how to feel, how to listen to mugham and begin to cry. This ability doesn't depend on education or upbringing, or on one's roots. It's something else. It's an elite of feeling, an elite of inspiration."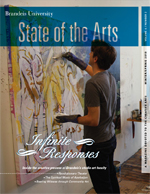 Download the
                  spring 2010
          State of the Arts
Another piece from a different classical tradition keeps pushing into my thoughts: Beethoven's "Heiliger Dankgesang," the heart of his opus 132 string quartet. Here, sections of serene prayer are juxtaposed with joyful, richly textured dance music that seems to celebrate life itself. It is not the contrast that is the lesson; rather, it is the gradual integration, the merging of the two: the Godhead (as Beethoven puts it) and humanity. Other pieces come to mind: Messiaen's Louange à l'Immortalité  de Jésus, the seventh and final movement of his Quartet for the End of Time, and Schubert's Adagio from the C Major String Quintet. Each, in its own way, embodies the dialogue, and perhaps the interdependence, of the human and the divine. I think of this as I follow the mugham chargah to its conclusion. How to endure, how to feel? How to pray, how to rejoice? How can we know these things? Listen with hal.  
Judith Eissenberg has been a violinist in the Lydian String Quartet and a member of the Brandeis faculty since 1980. With the quartet, she has recorded and performed around the world. She teaches Introduction to World Music and founded MusicUnitesUS in 2003.
Quotations reprinted from liner notes for Music of Central Asia, Vol. 6, 2007, Smithsonian Folkways Recordings.
Return to the BrandeisNOW homepage