The Brandeis Theater Company-Primary Stages partnership
A Primary Collaboration
By Elliot Fox'87, Primary Stages managing director
 
I am thrilled to have this opportunity to reconnect with my roots and the team at the Brandeis Theater Department which inspired much of my work as an artist and producer. It seems fitting to now collaborate on a program that will provide wonderful opportunities for the graduate students to work along side Primary Stages playwright, Rogelio Martinez, to create a new piece. I have been fortunate to focus my work on playwrights and new play development with organizations such as Signature Theater Company and Cherry Lane Theater in addition to Primary Stages, and endeavor to provide writers with the resources and space to evolve their plays.
 
This new collaboration with the Brandeis Theater Company and Primary Stages will create such an opportunity and may serve as a model for future projects that create new relationships for Brandeis graduates to assist their post graduate careers.
 
As a student at Brandeis, I recall participating in workshops with Edward Albee, Nola Chilton, and Barney Simon in addition to the training I did with Ted Kazanoff, Danny Gidron, Annie Loui, and others. The range of perspective and advice from all of these artists was invaluable and I hope that this program will contribute to everyone's experience as both students and artists. Our goal is not only to present the highest caliber of work we can, but to serve as an incubator and advocates for current and future generations of artists.
 
Primary Stages has given life to more than 100 new plays, many of them world premieres, by writers such as Horton Foote, A.R. Gurney, Willy Holtzman, Julia Jordan, Romulus Linney, Donald Margulies, Melissa Manchester, Terrence McNally, John Henry Redwood, John Patrick Shanley, and Lee Blessing. In 2004, Primary Stages moved from to the 198-seat theater at 59E59 Theaters, launching a period of unprecedented growth for the company and enhancing its role in the New York theatrical landscape.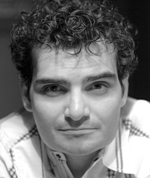 Rogelio Martinez
History Lesson
By Rogelio Martinez
 
Never try to get ahead of history. That's the lesson I learned when writing my new play, "Cocktail Time in Cuba."
 
In early January of 2007, the Atlantic Theater Company approached me about writing a new play for them. I told them I was interested in writing about Cuba again, something I hadn't done in a few years. What was my renewed interest in my homeland? President Fidel Castro had temporarily "retired" from public life and had not been seen in public in months. There were rumors all over the news that he was dead or dying. I wasn't sure what to think, but I was convinced of one thing: I believed that by the time I finished a first draft of the play Castro would no longer be around. I set out to write the story of an American journalist who travels to Cuba to try to get one final interview with the aging leader.
 
By the time I reached the end of the first act, I realized history was not cooperating. Was that Castro in the news? Was he getting better? Why is he wearing a sweatsuit? Every few weeks Castro would make a public appearance, and I would wonder if it was him or some body double. I started to go a little nuts. History was not making sense. It was taking its own sweet time not interested that I had a play to finish.
 
As with other things involving Cuba, I was given no choice.
 
I started to rewrite even before I was done with the first draft. Now I was writing a play about an American journalist who travels to Cuba to get one final interview with the aging leader, but ends up being taken in by the country's rhythm, its pace. He starts to forget what he's there to do because other things begin to pull focus. The play is the story of an American who loses track of time because in Cuba time is the one commodity the country has plenty of. Revolutions take 50 years to "perfect," leaders spend years on their deathbed, and journalists have no deadlines.
 
Cuba is a country full of surprises and there's no doubt that before this process is over, it will supply me with a few more.
Rogelio Martinez was born in Cuba. His plays include "When Tang Met Laika," "All Eyes and Ears," "Fizz," "Learning Curve," and "I Regret She's Made of Sugar." His work has been developed and presented at the Public Theater, Oregon Shakespeare Festival, Mark Taper Forum, and the Magic Theater, among others. He is an alumnus of New Dramatists and teaches playwriting at Goddard College, Montclair University, and Primary Stages.

Return to the BrandeisNOW homepage