Creator of Israeli TV hit, 'Arab Labor,' will screen and discuss his work March 9
Sayed Kashua's sitcom offers a fresh perspective on Israeli-Palestinian cultural friction
Celebrated author, screenwriter and satirist Sayed Kashua will visit campus March 9 for a screening of the pilot episode of his hit Israeli television comedy series, "Arab Labor."
 
The show, based on Kashua's satirical weekly column in the Israeli newspaper Ha'aretz, is among the 10 most popular shows on Israeli TV.
 
The free, 5 p.m. screening at Wasserman Cinamatheque is sponsored by the Schusterman Center for Israel Studies, in cooperation with The National Center for Jewish Film.
 
Filmed in Arabic and Hebrew (it will be screened at Wasserman with English subtitles) and boasting a mostly Arab cast, the sitcom is the first in Israel to feature an Israeli Arab protagonist. "Arab Labor" satirizes the experiences of a Palestinian journalist trying to make it in Israeli society. The show explores the controversy surrounding issues of identity and the sensitivities of both populations.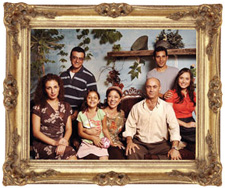 Kashua is widely acknowledged as a fresh and unique literary voice; his first two novels, the best sellers, "Dancing Arabs" and "Let it be Morning," have been translated into multiple languages. He is currently writing the screenplay for "Dancing Arabs," which is being made into a movie.
After the screening, he will answer audience questions. A book sale and signing will follow.
 
For additional information, visit the Schusterman Center Web site, or contact the center by e-mail or by telephone at 781-736-2154.
Return to the BrandeisNOW homepage