Creative Arts Festival returns with music and more
Artists aim to eliminate barriers between themselves and their audiences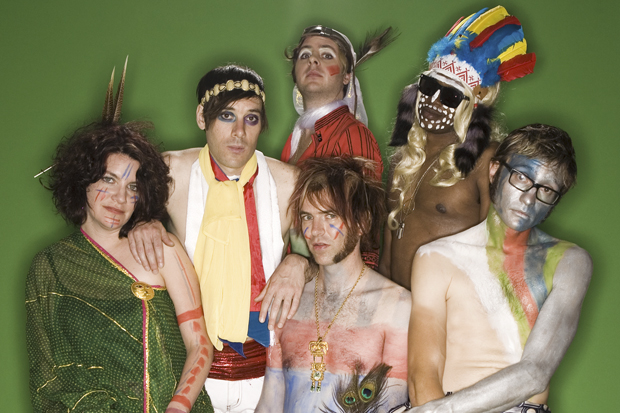 What began in 1952 with Aaron Copland, Miles Davis and William Carlos Williams now includes a 19-piece brass band, an electro-acoustic music marathon and a play about the teen angst of beloved comic strip characters.
It's the Leonard Bernstein Festival of the Creative Arts, a four-day extravaganza of performance, participation and playfulness between April 28 to May 1.
Art will be all around, as visual artists and performers try to eliminate barriers between themselves and audiences.
"We prefer when our audience is having as much fun as we are," says Susan Sakesh, a trombone player with the What Cheer? Brigade, which will play on Sunday. "We like to surround the audience and break down the space between us."
The brass street band has played throughout Europe, and at such annual events as Lollapalooza and Honk!, and will again play at this summer's Newport Folk Festival. Members, who play a mix of original music and covers of hip-hop and heavy-metal songs like R Kelly's "Ignition," brand themselves "hardcore luddites," because they are high-energy group that requires no electricity.
"One of the things we try to do is play as loud as we can," Sakesh says. "No matter what the genre of music, it all tends to be united by aggressive loudness."
Guy Mendilow wants to break down barriers of a different sort. His current work is a sort of homage to diversity, which he describes as a mix of history and imaginative futurism. The songs are hundreds of years old and steeped in Sephardic traditions, but the music reflects the "continental hopscotch" Jews have played over time.
"Our identities change when we leave home and enter another culture," Mendilow says, "but we don't forget who we are."
With his music, Mendilow also asks "what if," and imagines a hypothetical future in which various cultures collide. "What if a hundred later, after they landed in the north of Brazil... what if they land in Appalachia?" Mendilow says. "How does this song still keep its identity?"
He and his band will play a piece written for their festival performance Sunday, May 1, which is Holocaust Remembrance Day.
Indoors at the Spingold Theater Center, comic strip character CB is in high school and his dog just died in "Dog Sees God: Confessions of a Teenage Blockhead." Audiences will first see him at a dance party, which they are invited to attend - on stage.  
"I love this idea of human interaction," says director Summer Williams of Company One, a Boston theater company. "CB enters and just cannot engage, he's just not having a good time."
The play follows familiar characters as they come of age. It's about identity, finding oneself, with a lot of humor and vulgarity thrown in, Williams says. 
At the Brandeis Electro-Acoustic Music Studio (BEAMS), there'll be a 12-hour marathon Saturday in the Slosberg Music Center. The concert will showcase more than 50 electronic and mixed-media works by local students as well as artists traveling to Brandeis from abroad.
"When people think about a marathon concert, they mainly think about length," says graduate music composition student Victoria Cheah. "But the great thing about a concert like this is how diverse the program is. It gives people an idea of what electronic music is, where it came from, where it's going."
The music has changed over time as technology has changed, Cheah says. People will hear notes that until recently, have not been physically possible.
"It really subverts what people thought was possible, creating news ways of understanding the music" she says of the compositions. 
Additional highlights?
A Cappella Fest. Ten of Brandeis' best loved a cappella groups, including VoiceMale (Best of College A Cappella 2009), line up for one vocal feast. Suggested donation: $3, with proceeds going to Waltham Teen Chill Zone. Thursday, April 28, 8 p.m., Hassenfeld Conference Center.
Words and Music by Keith Munslow: Young and old alike will delight in Keith Munslow's unique mix of funny and original songs and stories, tongue-twisting poems and oddball characters. Visit Keith at Kids' Place Live on Sirius Radio! Sunday, May 1, 2 p.m., Rose Art Museum.
Brandeis FolkFest: Featuring some of New England's most exciting young singer/songwriters, including Danielle Miraglia, Jolly Beggars, Jim's Big Ego and Ryan Fitzsimmons. Hosted by Geoff Bartley. Sunday, May 1, 2:30 - 5 p.m., Shapiro Campus Center Theater.
Lydian String Quartet: Currently celebrating their 30th anniversary at Brandeis's resident music ensemble, audiences around the world have thrilled to the exceptional musicianship of the Lydians.
For a full schedule of events, please visit the festival website.
Return to the BrandeisNOW homepage