Hoops for Haiti benefit game won by students, 49-42
Proceeds will go to ETE Camp, Hope for Haiti, Partners in Health and Japan relief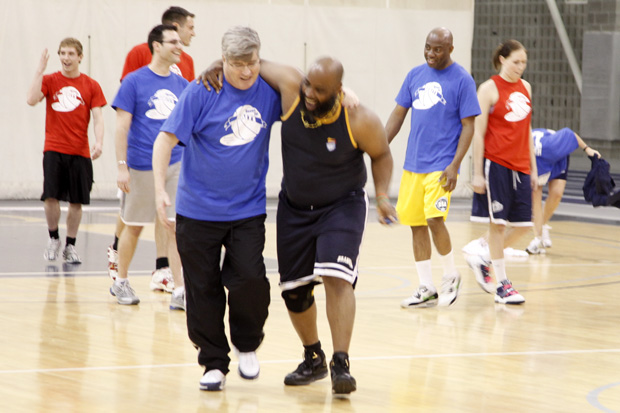 Students claimed the Hoops for Haiti title Monday night, April 4, defeating the faculty and staff team, 49-42, in the second annual charity basketball game organized by the Brandeis Haiti Initiative.
Last year, the faculty and staff, led by Professor Jerry Cohen, beat the students, 37-31. But this time faculty and staff coach Andrew Gully struggled to keep up with the students, who were led by several varsity players and coached by Ryan Fanning '11 and avid Brandeis basketball fan Allen Karon '91.  Faculty and staff from numerous departments, including Dining Services, Public Safety, Community Living and Student Activities played in the game.
Soon after entering the game, Assistant Dean of Student Life Jamele Adams, in a similar fashion to his act last year, dramatically faked an injury and hobbled off the court, as women's basketball coach Carol Simon ran down from the stands, took his place and put on the "Human Thunder," jersey. After a quick recovery on the bench, Adams was back in action.
Mike Vella and Cary Weir Lytle were among the high scorers for the faculty and staff squad. Karon, who attends almost all Judges basketball games during the season, seemed to know strategy best, helping rally the student team towards the end of the first half, telling them to play more aggressive defense against the outside shooters of the faculty-staff team.

Proceeds from the game will be donated to ETE (Empowering Through Education) Camp, Hope for Haiti, Partners in Health and Japanese earthquake relief efforts.
Brandeis Haiti Initiative also is hosting a fundraiser at Uno Chicago Grille in Waltham on Saturday evening, April 9.  The student-led organization will also host the second annual gala dinner, A Night for Haiti, on Saturday, May 7, at 5 p.m. in the Mandel Center.  Nate Rosenblum '10 and Shaina Gilbert '10 founded the Haiti initiative last year and raised $30,000 following the earthquake that devestated Haiti on January 12, 2010.

The Office of Student Affairs and Enrollment, the Hiatt Career Center, Student Activities and the Student Union helped to sponsor Hoops for Haiti.
Return to the BrandeisNOW homepage