Daniel Libeskind to talk about his life and his work
He will read from his memoir and discuss how early experiences influence him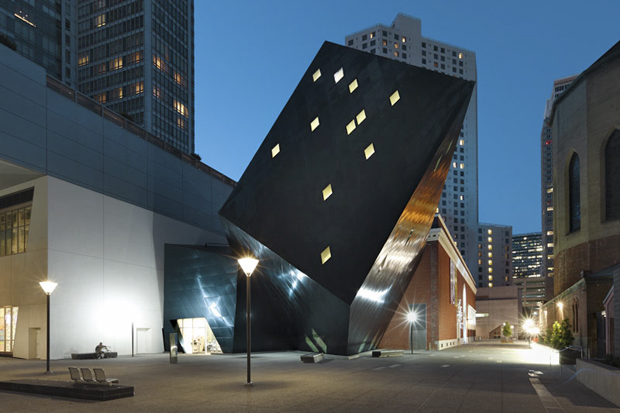 The ways in which internationally-renowned architect Daniel Libeskind's early life experiences have influenced his commitments, vision and work will be the subject of a conversation and reading arranged by the Hadassah-Brandeis Institute's Project on Families, Children and the Holocaust on Tuesday, April 5.
Libeskind, designer of such acclaimed projects as the Jewish Museum Berlin and the master plan for the World Trade Center in New York, will do a reading on "Architecture, Life, and Death" from his memoir, "Breaking Ground: An Immigrant's Journey from Poland to Ground Zero," and will participate in a discussion led by Dr. Shulamit Reinharz,  director of  the institute.
Libeskind received an honorary Doctor of Humane Letters degree from Brandeis in 2007.
"Architecture is an art engaged in discourse on history, space and memory," says Dr. Joanna Michlic, director of the institute's Project on Families, Children, and the Holocaust. "Libeskind's architectural projects that commemorate the Holocaust exhibit the power of creative transformation of collective trauma among Second Generation of Holocaust survivors, revealing an audacious engagement with the past.
In Libeskind's own words, "Architecture is a direct response to the permanent questions posed to human beings by the evolution of space in society – a space that seems to be autonomous, yet seeks a profound and ethical discourse."
About the design of the Jewish Museum in Berlin, 12 years in the making, Libeskind says: "This was a building that, using the language of architecture, could take us all, Jews and non-Jews alike, to the crossroads of history, and show us that when the Jews were exiled from Berlin, at that moment, Berlin was exiled from its past, its present and – until this tragic relationship is resolved – its future."
Libeskind's ideas have influenced a new generation of architects and those interested in the development of cities and culture. His memoir was published in September, 2004,  by Riverhead Books.
The discussion will take place in Rapaporte Treasure Hall, Goldfarb Library. Gretchen Schneider, associate editor of ArchitectureBoston magazine, will introduce Libeskind. RSVPs are strongly encouraged; please e-mail the names and number of guests.
In addition to the HBI Project on Families, Children, and the Holocaust, supporters and cosponsors include the Boston Society of Architects, the Center for German and European Studies at Brandeis University and the Mandel Center for the Humanities at Brandeis University.
For more information, visit the Hadassah-Brandeis Institute website.
About the Hadassah-Brandeis Institute
The Hadassah-Brandeis Institute develops fresh ways of thinking about Jews and gender worldwide by producing and promoting scholarly research and artistic projects.
Return to the BrandeisNOW homepage