While college students are away, teens do more than play
Summer programs for high school students let them explore Judaism with other interests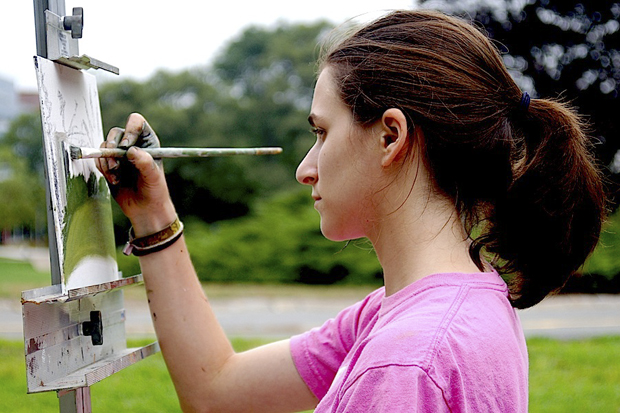 It's a muggy midsummer morning and campus seems quiet, unless you're in the right place at the right time.
A young woman stands alone at her easel near a wooded area. She's working on her final project for
BIMA, the Brandeis Institute for Music and Arts
: a landscape. A few of her classmates are scattered around indoor studio space. Some are getting advice from an instructor; others are deep in the zone, buds in ear and paintbrush or pencil in hand. Nearby at the Slosberg Theater, students sit in a semi-circle around a piano. The instructor is excited. He stops for a moment and notes, "We're doing some groovy stuff!" Some of the students are looking over sheet music, one holds a guitar and another picks up drumsticks. Together, they sing. 
"It's a really great program where you can build yourself artistically," says Rebekah Scheiner, a rising high school senior who has returned for a second summer at Brandeis.
Growing numbers of teenagers are coming to Brandeis seeking a more sophisticated experience than summer camp. The university offers three primary summer programs for teenagers: BIMA, Genesis and Impact Boston.
"It's for teens who want to see what Brandeis is like, or what college is like," says Dvora Goodman, director of Genesis, who adds that in recent years there typically have been between 70 to 80 alumni of the programs enrolled at Brandeis as undergraduates. "The idea is 'How can we come together and learn as much as we can about ourselves and each other through these studies?' A lot of them are used to doing their art over here and their Judaism over there.
While exploring Judaism is a component of all the programs, BIMA, which requires demonstrated artistic ability, offers students from around the world intense summer study of their chosen art form, be it  film, music, visual art, theater, writing or dance.
"We don't turn a lot of teens away," says Rachel Happel, director of BIMA. "It's very self-selecting." 
The Genesis program draws students from around the world to study topics like legal issues and advocacy, medical ethics and health policy, ​and journalism and responsibility. Impact Boston, a new two-week collaboration with BBYO, focuses on voluntarism.
The programs are housed in the Office of High School Programs and have grown briskly since their founding. Genesis was founded in 1997 with support from Steven Spielberg's Righteous Persons Foundation, and has grown from an initial 15 students to 78 this year. BIMA, founded in 2004 but not moved to campus until 2007, has grown from 42 students to 97. 
The growth, staff says, is mostly due to word-of-mouth recommendations.
Scheiner first heard about BIMA from a friend who had attended and, attracted to both the artistry and the company, Scheiner says she continues to improve her skills the second time around. Though she lives in The Bronx, New York, she finds her neighborhood very homogenous, and she appreciates the diversity of her classmates.
Also a New Yorker, Aaron Kohl, a rising high school junior who sings in a choir and plays violin, has a similar take. 
"I've learned different styles, really gone outside of my comfort zone," he says. "The people are great. Everyone has different interests but we all have something in common."
In addition to their major areas of study, workshops, visits from artists and lecturers, students in the programs leave campus for field trips.
None more so than students in the Impact Boston program, through which they spend about 40 hours volunteering in groups at a variety of sites that range from Horizons for Homeless Children, Senior Hebrew Life and the Waltham Police Department.
"Our first visit shook my expectations," says Marissa Finkelman, who volunteered at women's shelter. "They just needed us to be present and listen." 
Likewise, her group leader, Miriam Farber, shared her surprise. "I'm always surprised by the teens," Farber says. "Their ability to find something good and learn something from a day I thought was dreary or not as exciting."  
Return to the BrandeisNOW homepage