'A Storm Called Katrina' winning critical acclaim
Mike Uhlberg '55 has reinvented himself as an author of children's books
He was an undersized football star at Brandeis, jumped out of airplanes as a U.S. Army paratrooper after graduation, and designed and sold men's clothing around the world for more than three decades, so just how difficult could it be for Myron "Mike" Uhlberg '55 to write a simple children's picture book?
"People who don't know the genre think it's easy," the award-winning children's author says. "Once you try it, you find that writing those 1,200 words is the hardest thing you could ever hope to do."
Although he didn't start writing until he retired – "the only things I'd written up until then were alimony checks," he reports with a laugh – Uhlberg has successfully navigated the perilous world of children's lit.
He has written and published six books geared for children ages 8 to 11, including the award-winning "Dad, Jackie and Me," based on the summer of 1947 when he and his father watched baseball pioneer Jackie Robinson play a game at Ebbetts Field in his native Brooklyn.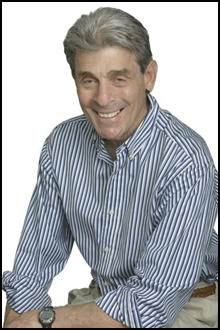 Myron "Mike" Uhlberg
Uhlberg's latest work, "A Storm Called Katrina," recently received a glowing review in the New York Times, and starred reviews in Publishers Weekly, Kirkus Reviews and Booklist. Due out at the end of August to coincide with the storm's sixth anniversary, the book tells the story of a 10-year-old New Orleans boy who lives through the great hurricane.
"At the beginning, I never thought I'd be published," says Uhlberg, who lives in Southern California. "After the first book was published, I didn't think I'd sell another. After the second book, I never thought there would be a third. Somewhere along the way I started thinking I was an author and I wasn't just a hobbyist anymore."
Uhlberg grew up in a home that prized the written word over the spoken. His parents were both deaf, and he communicated with them through the gestural language of the deaf. His critically acclaimed adult memoir, "Hands of My Father," tells his story of growing up as the first-born, hearing son.
"I never thought of myself as a writer – I was a reader growing up," he remembers. "Every time I looked at my parents, if they weren't eating and sleeping they were reading."
When he left the business world in 1995, at the age of 62, Uhlberg searched for a fulfilling outlet. He had never written before, but thought he could do better than many of the authors whose books he was reading to his granddaughters, Alexandra and Kelli.
He befriended the librarians at his local libraries in Santa Monica and Palm Springs, and set about learning what made for a good children's picture book. Maurice Sendak and Tomie dePaolo became his idols. He educated himself about word choice, syntax, grammar, sentence structure and dramatic narrative flow. In the course of reading an estimated 1,000 picture books, he discovered that the magic children's sentence contains eight words.
"The librarians were very helpful," he says. "They made lists of what was good and steered me toward certain books. They stressed the importance of establishing a unique voice."
Once he grasped how to write the books, Uhlberg sought to learn the business side of publishing. He took a course on the subject at a local junior college, and purchased every book he could find about getting a manuscript published.

Despite his preparation, Uhlberg was not an instant success. More than two dozen publishers rejected his first work, "Flying Over Brooklyn," the story of a young boy who dreams of flying over his snow-covered hometown. Most rejections came via form letter, though occasionally, an editor would scrawl an encouraging note. "All those rejections can just crush you – if you let them," Uhlberg says.

Finally, Peachtree Publishing in Atlanta called. President Margaret Quinlan wanted to buy the manuscript and hire an artist to illustrate the book. "When I hung up the phone, I yelled out, 'I finally did it!' " Uhlberg recalls.
His old friends from Brandeis are happy for his success, but surprised. The Mike Uhlberg they knew in college was not someone they expected would become a successful writer.
"To them, I was a shy, confused, unsophisticated non-talker," Uhlberg says. "They find it terribly amusing that I've become a writer."



Return to the BrandeisNOW homepage