'Four Seasons' sort of guy goes bicycling in the bush in Mali
Chaplain says student efforts 'teach me what it means for me to follow my own faith'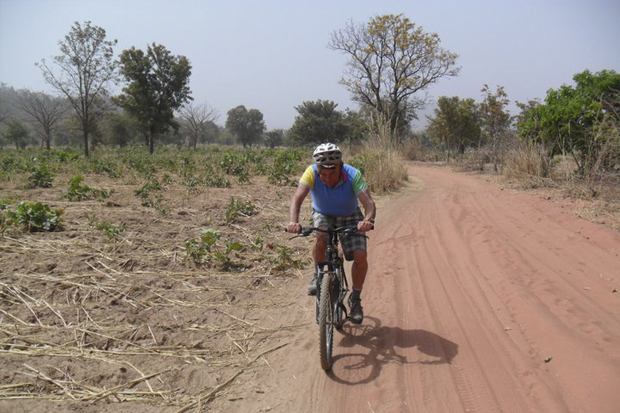 I am the Catholic chaplain at Brandeis and, in general, I am a "Four Seasons" sort of fellow. But I also like to keep track of the students whom I engage with here, and doing that can mean being far away from any sort of hotel.
Last semester, I went to Mali to spend some time with a recent graduate, Tyler Morrill '10, who is working with the Peace Corps there. Tyler was active in the Catholic community at Brandeis; now he is stationed about one hour north of Bamako, the capital of Mali, one of the poorest countries in Africa. He is helping people in his village develop a better water supply system.
He helped build a water pump so that the women do not have to walk miles for water. This also assures the people of his village with clean water. This pump took a large effort and money – some which Tyler helped raise and some from a grant from the US Agency for International Development.
He is now beginning another project for his second year, helping build better latrines. He is also helping the people of his village to learn to grow vegetables that will improve their diet. He represents what is best about our Brandeis students – their willingness to make a difference by doing work like this before embarking on their careers.
I do have to admit to having had a few challenging experiences during my visit to Mali.
Living in the village in a mud hut was more than an adventure. We had to sleep under mosquito nets due to the risk of malaria. In the middle of my first night, I was so tangled up in the net that I couldn't get out of the bed when I needed to. I called Tyler and he came to the rescue. Using the local latrine, especially at night, was another challenge.
Tyler arranged for me to accompany him and another Peace Corps worker on a 26-kilometer bike trip to a waterfall, so that I could see the beauty of the country. Although I walk every day, that was an ordeal. Even more so was the return trip.
Tyler, having sensed I probably couldn't do the round trip, arranged for a young Malian to take me back to the village on a motorbike and for another young man to ride my bicycle back. I had to hold on as we went at breakneck speed down the hills back to the village. I thought I would never see Brandeis again. But I survived!
My inconveniences were nothing, of course, compared to the struggles of daily life that confront people in Mali.
Women tend to bear the burden of responsibility for the children and all food preparation, as well as finding water. That is why this new pump was so important. Every morning, the women rise at 4 a.m. to pound the millet which is the staple of the Malian diet. You begin to hear the sounds of their labor long before you get up. Many of the men have three or four wives, so that there are many children to feed and care for. My inconveniences seem like nothing in comparison.
One night, a large number of the community came to our hut and made tea for us following a very elaborate ritual. It was so inspiring to see their dignity in the midst of the challenging conditions.
I have experienced this same spirit of giving back with other students. Last summer I went to Haiti to stay for a few days with Jeremy Werth '08, who was working in small Catholic clinic above Port au Prince. Jeremy is attending Eastern Virginia Medical School and yet gave of his time to spend the summer in Haiti at his own expense. I witnessed the terrible poverty there but also saw a young man with the Brandeis spirit trying to make a difference.
Shaina Gilbert '09, another member of the Catholic community at Brandeis, also worked in Haiti, establishing ETE educational summer camp for children.  She spent her first year after graduation working there too, and now teaches lessons in Haitian Creole to students in a disadvantaged neighborhood of Boston.
There are so many aspects of life at Brandeis that I admire: its openness to all religions, the academic life of the students and the superb faculty, my colleagues in the Student Life world, but most especially the commitment of the university to social justice. The spirit of Justice Louis Brandeis continues to be strong, especially in the lives of our students.
Being a chaplain here is a privilege, and knowing students like these is an honor. In so many ways, they teach me what it means for me to follow my own faith.
------------------
Walter Cuenin has been the Catholic chaplain at Brandeis for five years. He also coordinates the Interfaith Chaplaincy, which includes Rabbi Elyse Winick, Protestant chaplain Alex Kern and Muslim Chaplain and Imam Talal Eid. Students sometimes refer to him jokingly as "the chief rabbi," a title he enjoys.
Return to the BrandeisNOW homepage