Brandeis Magazine serves up food, food for thought
From sweets in Manhattan to barbeque in L.A. to sustainable farms of the future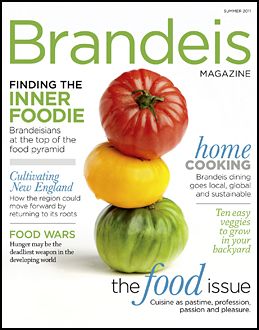 Want to know where to find sublime Asian-inspired sweets in Manhattan? Or where to enjoy celebrity sightings along with some of the best barbeque ribs in L.A.? Maybe you're only interested in sampling Kenyan goat or banana leaf-wrapped stingray vicariously, in a well-seasoned food blog.
Satisfy all your cravings and discover alumni at the top of the food pyramid in the summer issue of Brandeis Magazine, featuring cuisine as pastime, profession, passion and pleasure.
The issue also explores the myriad ways health and sustainability permeate our complex relationship with food. Faculty member Brian Donahue envisions a mid-21st-century New England in which farming returns to its glory days, making cities greener and people healthier - without having to subsist on kale and parsnips all winter.
In "Home Cooking," alum Max Pearlstein '01 wistfully recalls the coconut magic bars and chocolate milkshakes that fueled his undergrad days as he reports on the contemporary Brandeis campus dining scene, including trayless meals, cage-free eggs, sushi and composting.
In "Food Wars," a Q&A with anthropologist and activist Ellen Messer, the Heller visiting professor considers the dark underbelly of food deprivation in the developing world's conflict zones. Rounding out the issue on a sweet note, a story about streets kids in Hoi An, Vietnam, recounts one Heller grad's grand foodie vision and how it became a recipe for success.
There's food and food for thought aplenty in this just-out issue. Copies are available at the Faculty Club, the Usdan Hall entry foyer near International Lounge and other locations on campus.
Return to the BrandeisNOW homepage