Indian officials get Brandeis take on development policy
TERI scholars' visit deepens schools' partnership and the India Initiative
Nine mid-career Indian civil servants have completed a month-long study of health, development and conflict management issues with faculty of the Heller School for Social Policy and Management.
It was the second study program organized by Brandeis for Indian government employees who are enrolled in the master's program in public policy and sustainable development at TERI University of New Delhi, and represented a deepening and formalization of a partnership that the two schools began building in 2008.
Other connections between TERI and Brandeis, including the possibility of a study-abroad program in India for Brandeis undergraduates, are being explored through the Office of Global Affairs, which is working to expand and develop Brandeis-India Initiative programming.
TERI – an acronym for The Energy and Resources Institute – is dedicated to issues of environmental sustainability. The school is headed by Rajendra K. Pachauri, a chair of the Intergovernmental Panel on Climate Change who shared the Nobel Peace Prize with former U.S. Vice President Al Gore in 2007, and who received an honorary Doctor of Humane Letters degree from Brandeis in 2009.
The master's program in which the most recent visitors are enrolled includes six weeks of study at American universities. This year's group also spent two weeks at Ohio State University's John Glenn School of Public Affairs.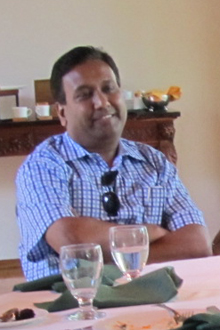 Praveen Srivastava
Praveen Srivastava, who moved from forest management to disaster mitigation to the central planning commission of India, said at a concluding luncheon for the group at the Faculty Club Lounge he entered the program because he wanted to learn how forest management could help mitigate natural disasters, but that his studies at Brandeis had been much broader.
"I was immensely enlightened and enriched to learn how AIDS policy and health policy could impact sustainable development," Srivastava said. "These dimensions were unfathomable to me previously. The Brandeis experience cut across all barriers."
Members of the visiting group ranged from specialists in women's and children's services to customs officers to military engineers.
Theodore A. Johnson, an assistant professor in the Program in Coexistence and Conflict, who was in charge of the program, said the curriculum for the Indian students was developed to emphasize areas in which Brandeis is particularly strong.
"Sustainable international development, conflict and coexistence, and health, science and social policy are where our comparative advantage is," Johnson said, adding that he feels "we have to teach to our strength" in developing international partnerships. "They had had no health policy, AIDS policy or conflict and coexistence study."
During the program, the TERI group studied health policy with Allyala Nandakumar, a professor of the practice of health policy in low-resource countries; AIDS policy and implementation with Joan Kaufman, Distinguished Scientist in the Schneider Institutes for Health Policy; and conflict-management and mediation issues with Johnson.
The needs and realities of India and the nature of the TERI group also gave the Brandeis faculty a chance to work on their own thinking about the subjects being studied.
"One of things I am interested in is the intersection of conflict and poverty, and how those intersect with climate change," Johnson said. "Some people feel you should eliminate poverty first, then deal with climate change, others say the opposite and a third way is these are not mutually exclusive. Things that eliminate climate change can also mitigate poverty, and that eliminates conflict."
The TERI group also made field trips related to their classwork, including visits to the Program on Negotiation at Harvard, Mercy Corps in Cambridge, and the John F. Kennedy Presidential Library and Museum in Boston.
Daniel Terris, Brandeis' vice president for global affairs, said that one of the top priorities of the Brandeis India Initiative is to create more study and work opportunities for undergraduates in India and "TERI is one of the possibilities we're looking at very hard. From my point of view, whatever graduate and undergraduate connections we can develop with TERI will be mutually beneficial to our institutions."
Started in autumn 2007, the global affairs office has built the India Initiative into a substantial new programming area. Since the initiative's inception, the Soli Sorabjee Lecture Series in South Asian Studies has been created, global affairs office grants to expand engagement in India have been awarded and, this summer, an undergraduate fellowship program supported by Indian parents and friends of the university began an effort to raise the number of Brandeis students pursuing study and work in India.
Attention to India also has been intensified by creation of a South Asia Studies Program and a visit to the country by then-President Jehuda Reinharz in February 2010. President Fred Lawrence, who was engaged with an Indian law school during his tenure as dean of the law school of George Washington University, has said he plans to visit India.
Return to the BrandeisNOW homepage