Lawrence speaks on universities of the future
Rapid technological and social change the challenge, liberal arts the answer, Brandeis president says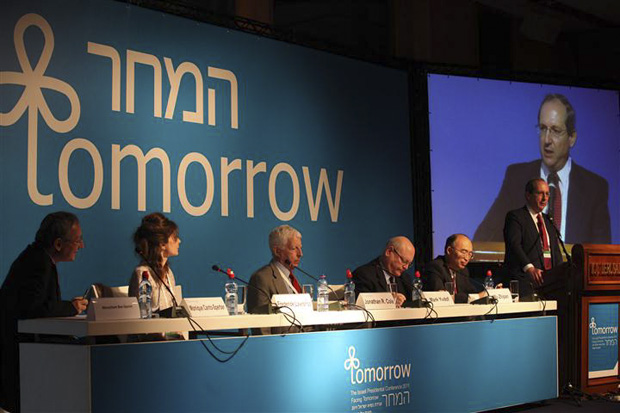 Addressing the Israeli Presidential Conference on Thursday, June 23, Brandeis University President Fred Lawrence declared that the task of universities today is to prepare their students for a world that "we literally cannot imagine."
Lawrence spoke on "The University of Tomorrow" alongside luminaries of higher education from around the world, including former Harvard President Larry Summers, University of California President Mark Yudof, Hebrew University President Menachem Ben-Sasson and Beijing University Executive Vice President Wu Zhipan.
Members of the panel addressed such topics as the responsibility of universities to the broader public; the tension between support for basic sciences and more applied research; the global dimensions of modern universities; and the structure of the university of the future. Lawrence focused on the foundation that university students need today for the world of tomorrow. 
"We are trying to train people for a world that we literally cannot imagine," he said. "I don't mean figuratively that we cannot imagine and I am not speaking hyperbolically. I mean a world that we literally cannot imagine. 
"What will the workplace look like 30 years from now, 40 years from now, when my students from Brandeis University will be in the workforce? In a literal sense it is impossible to imagine. Let me give you the flavor of it. The iPads and the laptops and the phones that we have today will seem to them like slide rules and manual typewriters seem to us. So we know that it will be unimaginable in that sense," Lawrence continued.
With technology and society both changing rapidly, Lawrence said, critical thinking, communications skills, and problem-solving acumen will be the crucial assets for tomorrow's graduates. He stressed that these are exactly the skills that liberal arts universities provide.
"That is one of the great roles and the challenges of the university, to maintain the ability to teach those kinds of skills, the value of which may not be apparent on the literal tomorrow. If we fail in that task, the cost to all of us globally will certainly be apparent if we produce a citizenry that cannot analyze, that cannot communicate, that cannot problem-solve and deals with undifferentiated information that it cannot turn into knowledge let alone wisdom," Lawrence said.
Monique Canto-Sperber of the Ecole Normale Supérieure in Paris warned that universities are in danger of losing their independence in an era when funding pressures are increasing the power of governments, businesses and donors. 
Jonathan Cole of Columbia University urged that universities move even faster to break down barriers between disciplines, in order to bring more multi-dimensional approaches to solving major global problems. 
Yudof, of the University of California system, described the competitive environment of the present and the future, while also calling for universities to work more closely together to try to operate more efficiently.
The Israeli Presidential Conference is an annual gathering under the auspices of President Shimon Peres that attracts approximately 3,500 people from around the world to the International Convention Center in Jerusalem.  
It was the last stop for a Brandeis delegation of faculty and administration leaders that Lawrence initiated to seek partners for scientific collaborations at Israeli universities, to raise the profile of Brandeis among potential students, and to connect with alumni and friends. He has been reporting his experiences on his blog.
Return to the BrandeisNOW homepage