Brandeis Achievement Award winners named
Four rising juniors each earn scholarships of $5,000 per semester
Below are this year's recipients of
Brandeis Achievement Awards
: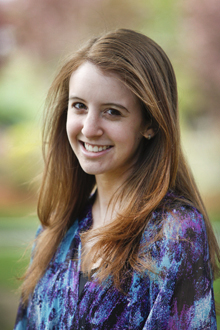 Sarah Azarchi is pursuing B.S. degrees in both biology and Health: Science, Society and Policy Program (HSSP), while minoring in Hispanic studies. She has been a lab assistant in the Petsko Structural Biology Lab, a peer counselor for Students Talking about Relationships (STAR), an orientation leader, a co-editor of The Pulse, Brandeis's undergraduate pre-health journal, and a chatter and host for the Office of Admissions. In her application essay, she wrote: "Working in the labs has taught me the importance of patience, procedure and perseverance, because sometimes many trials are needed before success."  She also noted how participating in a community-engaged learning practicum linked to a core HSSP course enabled her to interact with patients at a local health care center who were struggling with the same medical plights she was learning about in class, giving a human face to the science of disease and illness. Her recommenders call her a truly outstanding young scholar, and a joy to have in class.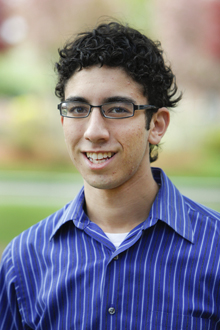 Yonatan (Yoni) Battat is a music major, the principle violist of the Brandeis Wellesley Orchestra, and a member of the Company B a cappella group, and chamber choir and a string trio that performed at the EL2 (Experiential Learning, Engaged Learning) symposium. He is also a music director of the Brandeis Undergraduate Theater Collective, where he conducts the pit orchestras and privately coaches vocalists; and the co-founder, business manager and bandleader of the 'Deiskeit Klezmer Ensemble, where he creates custom arrangements emphasizing modern and historical approaches to Yiddish music. He is also an orientation leader, a concert recordist for the Brandeis music department and a certified black belt in Tae Kwon Do. His essay focuses on how he chose Brandeis over a music conservatory, even though he plans to devote his life to music, in order to satisfy his other intellectual curiosities, which he continues to discover at Brandeis. He now thinks "successful performances are achieved through questioning and exploring the big ideas of life and the world around us."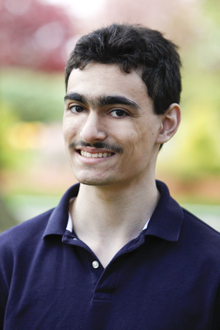 Keith Frankston is majoring in mathematics and minoring in classics. He has worked as a research assistant for a biostatistician using differential equations to model insulin response to glucose provocation experiments at Brigham and Women's Hospital and is doing research with Professor Lior Fishman on game theoretic aspects of Schmidt's game. He participates in indoor and outdoor intramural soccer, the Brandeis Trading Card Games club and the Go and Chess clubs. He's an independent computer technical consultant, a member of the Mathematical Association of America and an avid fantasy and science fiction reader. In his essay, he writes about how much he enjoys learning, especially when it involves research, and describes how he is part of an independent reading group working through a high level textbook on mathematical game theory, and also working on his own through a textbook on complex dynamics, for which he writes Mathematica programs for calculating sets for various complex maps, including quadratic and logistic.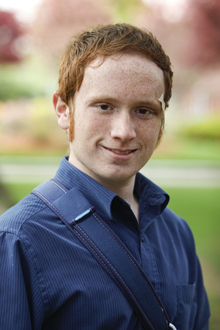 Alexander Self is double-majoring in politics and history, and minoring in philosophy.  Alex has served as vice-president of finance and of operations for the Brandeis Debate club. He and his team represented Brandeis at the World Debating Championship in Botswana, and at the North American Championships. He has also been a columnist and Impressions editor for the Brandeis Hoot, a writer for Gravity, the Brandeis humor magazine, and a member of the Running Club (he's training for a marathon), and the Top Score ensemble orchestra. He drives the campus BranVan to help pay for his expenses, and also serves an official note taker for students with disabilities. His faculty recommenders praised his wide ranging and inquiring mind, his creative intellect, his generous spirit, his sense of humility, and his "wholly unusual synthetic abilities which distinguish him from other very strong students."
Return to the BrandeisNOW homepage