Flood celebrates his years of service, passion for life
Beloved worker finds soul mate on campus
During his 17 years at Brandeis, Mike Flood came face to face with Jimmy Carter and basked in the spiritual presence of the Dalai Lama. What he valued most was maintaining sobriety and finding true love.
The 66-year-old Dorchester native retired last month from the Office of Facilities Services. He says he has much to be thankful for.
Flood was known around campus as the man who smiled and was eager to help, whether that meant digging cars out from the latest snowstorm, repairing a sprinkler head that had inadvertently flooded a hallway or reassuring students that their stage production would go off without a hitch.
"The tribute that all of the workers gave to him when he retired speaks to how Michael touched so many people," says Father Walter Cuenin. "It was that joyful spirit and the pride that he took in his work."
A morning cup of coffee in 1995 changed Flood's personal life. He walked into Usdan Student Center and a woman working the cash register mentioned that her friend's husband had passed away and that she was looking for a good, honest man. She then pointed to Jane Bellan. That afternoon Flood introduced himself to Bellan and invited her for coffee.
"Meeting Jane was the most wonderful thing that has happened to me," says Flood of the woman that he's spent the last 16 years with. "She's a doll."
The couple were married four years ago.
"Every day he wakes up in a good mood," says Jane. "He's a very kind person who helps out anytime he has an opportunity." He also cooks a mean meatloaf with spinach and cheese and award-winning chili.
Over the years the pair has lunched together in Usdan at a table for two. Do they every run out of things to talk about?
"No," says Jane Flood. "Never."
But times weren't always so happy for Mike Flood; his battle with alcoholism endured for nearly three decades.
"The alcohol led to other bad habits, including drug use," says Flood.
It was in a state hospital that he was first introduced to Alcohol Anonymous and began attending meetings.
"It was a turning point of my life," says Flood. " I don't like to use the phrase reborn, but it was definitely an epiphany. I've been clean and sober since 1984."
Flood says that some of the joys in his life include walking and working out. On average he'll cover 10 miles a day.
"I have to remind myself that I'm 66, not 36," says Flood. "Walking is a form of therapy, it burns off energy, gets rid of the tired blood."
What goes through his head during those three hours each day?
 "I think about how fortunate I am to have my health," says Flood.  "I spent many years destroying it, and now I'm trying to stay well."
Flood says he remembers the day when actor Christopher Reeve became paralyzed.
"I think about what he would give to be able to walk across a room," says Flood. I won't take that for granted.
Flood says he'll miss his coworkers  — the custodians, electricians, carpenters and tradespeople —  as "they care very much about doing the right job and being professional." He also says he'll miss the students.
 "They're very bright," says Flood. "They reinforce your belief in the future."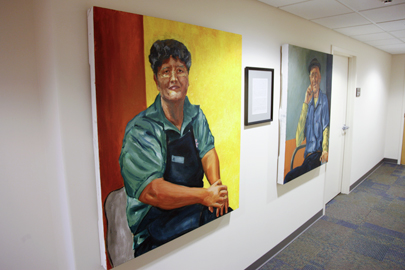 Portraits by Tanya Fredman '08

Tanya Fredman '08, a studio arts major, was so taken with Mike and his wife that she used them as models for her portrait series on facilities and dining service workers at Brandeis.
"I felt that this group of people who were sometimes overlooked, were such a big part of my college experience," says Fredman in a phone interview from her Brooklyn, N.Y. art studio. Fredman says she was specifically fond of Mike as she spent a lot of time at Hillel in Usdan, where he worked.
Fredman says that portraiture is a way of showing respect to people, historically used to paint nobles and people of great importance.
"I felt like it would be a wonderful tribute to paint portraits of Mike and Jane and a way of getting students to think about their relationships with some of the people that work in the university," Fredman said.
The results were so moving that the portraits were hung in the office of human resources, a fitting place for employees who have left their mark. Though they have been temporarily removed while the offices are being reconstructed, the protraits are due to be rehung shortly.
"I like the portraits and the write-up about them," says Scot Bemis, vice president of human resources. "They tell people they can spend a long, happy career at Brandeis."
Return to the BrandeisNOW homepage