Softball squad advances, hardballers fall
Judges make valiant effort in postseason play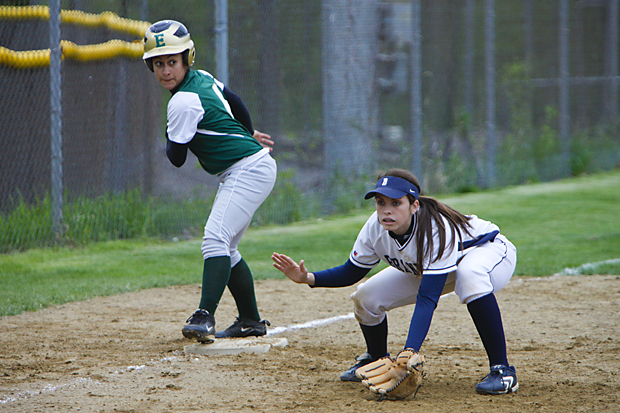 The second-seeded Brandeis softball team defeated Elms College, 9-1, on Marcus Field while the baseball team, also a number 2 seed, was eliminated in their first postseason appearance in four years, 8-5, by Anna Maria College on Stein Diamond.
It all went down during the spring postseason play on Wednesday, May 11, during the Eastern College Athletic Conference (ECAC) Division III New England tournament quarterfinals.
The softball team, playing to the ECAC tournament for the fourth time in five years after 2010's NCAA berth, improved to 19-17 on the season with their victory. The Judges jumped on the Blazers for five runs in the first inning. First-year designated player Melissa Nolan clubbed a three-run home run to center field, while junior right-fielder Samantha Gajewski went deep to left field with a two-run blast. The homers were the third and second of the season, respectively, for Nolan and Gajewski.
In the second inning, junior shortstop Brittany Grimm had an RBI double to make the score 6-0. After Elms scored a run in the top of the fourth inning, senior first-baseman Courtney Kelley launched her fifth round-tripper of the campaign, a three-run shot to left-center, that made the score 9-1. Nolan retired the side in the top of the fifth to end the game early thanks to the eight-run rule. Sophomore Casey Ducinski gave up just one hit in the first three innings to improve her record to 9-4 on the season.
Coach Jessica Johnson's Judges move on to the semifinal round at top-seeded Keene State College this weekend. They will face the University of New England, the tournament's third seed, on Saturday afternoon at noon.
The baseball team was not as fortunate. Senior John McGrath, who earned first-team All-UAA honors, was unable to become the Judges' first eight-game winner since 2006 after allowing five runs - only two of which were earned - on nine in six innings.
Senior first-baseman Eric Rosenberg was the offensive key for the Judges, accounting for all five Brandeis runs. Rosenberg went 2-for-4 with three RBIs and two runs scored. He doubled and scored the game's first run on a sacrifice fly by sophomore right fielder Chris Ferro in the bottom of the second, then tied the game at 3-3 in the third with a two-run single. Rosenberg added a run-producing fielder's choice in the fifth and walked and scored on junior shortstop Sean O'Hare's eighth-inning single, but it wasn't enough as Anna Maria scored three runs in the third, two in the fifth and three more in the eighth to put the game away.
Coach Pete Varney's squad ended the season with a 24-19 record.
Return to the BrandeisNOW homepage