The passions of Ann E. Lucas: Music, ecstasy and the Mideast
Ethnomusicologist researches development and change in music and culture
We all have playlists, music that can pluck us out of a mood, or sway us into one. Some are in our minds while others are dedicated genres on our ipods. Music has the power to cut across cultures and evoke emotion. Just ask new faculty fellow Ann E. Lucas, an ethnomusicologist who is slated to be on campus for the next two years thanks to funding from the American Council of Learned Societies (ACLS).
"Ethnomusicology denotes the study of music as culture, that music is a fundamental aspect of the human experience," says Lucas. The field of ethnomusicology is dedicated to what that relationship is, whether it's a particular music with a particular culture, or broader questions about why humans have music and what it says about humanity.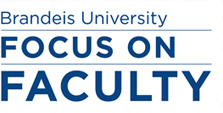 Lucas's expertise is in music of the Middle East. She does historic research into its development as well as change, from the rise of Islam to the present day.
On a sunny afternoon Lucas sits in her office holding a nay, which means reed in Arabic, the material that it's crafted from. The flute-shaped instrument has six holes and is made in different sizes that each produce a different set of pitches. Arabic and Turkish versions are blown over the top, like one would do on a soda bottle to create deep resonant sound.
"This is a very special instrument in the Middle East because it's associated with the singing of the soul," says Lucas. "It produces a kind of spiritual sound."
Lucas then reaches for an oud (pronounced ood), a wooden string instrument that has been popular throughout the region for centuries.
"It's sort of the piano of the Middle East and can play every pitch that you need," says Lucas. "This is the theoretical instrument of composers, who create how the music is going to behave.
The Middle East is a far way from Kansas, where Lucas grew up. After finishing her piano performance degree at Kansas State University she headed to UCLA to do graduate work in ethnomusicology. While she didn't have a particular ethnic focus of study at the time, she did have many questions to answer about the effect of globalization on different cultures of the world.
Lucas admits that she sort of fell into her passion of music of the Middle East due to proximity.
"When I got to UCLA I found that it had the largest concentration of Iranians outside of Iran," says Lucas. "The area outside of L.A. is often referred to as Irangelis because it is very Iranian yet still Los Angeles." Lucas speaks Persian, and reads in Arabic due to the classical history research that she does.  She made her first trip to Iran in 2003.
This semester Lucas is teaching an upper division course called "Music and Culture in the Middle East." She's been able to bring local musicians to her classroom so the students are able to experience the music with members of the community. During spring semester Lucas will be teaching two classes: a graduate seminar in ethnomusicology, which looks at what the discipline is, the history, and the different theories that underpin it. Lucas will be offering a lecture series to the entire university community with guest speakers.
The second is an undergraduate course called "Music and Ecstasy," which looks at music in altered states of consciousness in different cultural contexts. The course will touch on the Middle East when they examine the role that music plays in some forms of Islamic mysticism. It will also explore shamanism in both central Asia and North America and explore African forms of religion, from Latin America Sanatoria voodoo-when when people try to get their minds to reach a different plane.
"Hopefully this will educate students about the power of music," says Lucas. "Whether it's listening to study for a test or to feel better, music has a role to play."







Return to the BrandeisNOW homepage