Patrick kicks off U.S.-Israeli summit at Brandeis
Business school event focuses on data storage and security
On Monday, Brandeis International Business School hosted the New England-Israel Business Council's 2011 Data Storage & Security Summit, which brought together representatives in government, business and industry from both Israel and the greater New England region. Among the attendees were eight Israeli companies who presented their products and technologies to local investors and industry members.
 
Massachusetts Gov. Deval Patrick and EMC Corporation President and COO Pat Gelsinger both spoke at the summit. Patrick addressed the importance of establishing and maintaining strong, mutually beneficial business partnerships between Massachusetts and Israel.

"Collaborating across the private and academic sectors, as well as with government, is how both of our countries will effectively compete in this global economy. We are looking to enrich the conversation and build on these opportunities both here in Massachusetts and in Israel," Patrick said, before addressing the visiting companies: "You have a home and a friend here."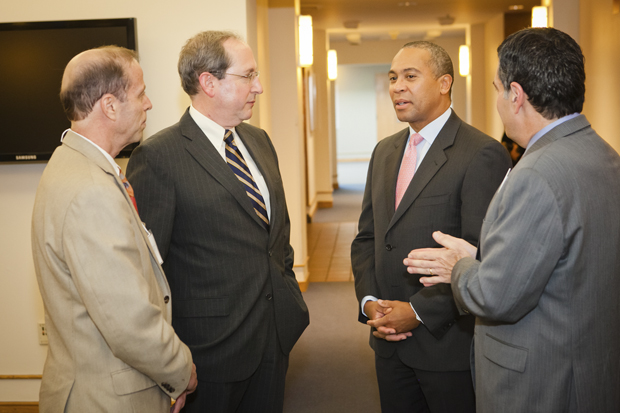 Massachusetts Gov. Deval Patrick, second from right, with NEIBC Chair Yuval Malinsky, Brandeis President Fred Lawrence and Brandeis IBS Dean Bruce Magid. (Photos/Nir Landau)
The summit was spearheaded by Yuval Malinsky, chair of the New England-Israel Business Council, who spoke briefly before introducing Shai Bazak, consul general of Israel to New England.
Brandeis President Fred Lawrence also spoke about the university's role in facilitating business connections and also made reference to his appearance with Patrick the previous week on a panel that discussed anti-Semitism.

"The strategic partnerships between the U.S. and Israel have never been more compelling and more obvious to those who are aware of the challenges in the economy today," Lawrence said. "A week ago we talked about punishing hate; today, we talk about building bridges."

In his keynote address, Gelsinger discussed the evolving field of data storage and the need for companies to adapt quickly to new systems like cloud computing, which he touted as the future of the industry. "If we want to stay relevant, we must be vigilant about staying in front of these changing technologies," he said.

Companies at the summit made presentations on topics ranging from database scaling to disaster recovery, and were also part of panel discussions with visiting experts.
 
"Israel and New England are two places that have proven to be global leaders in technology," said Brandeis IBS Dean Bruce R. Magid, who also serves as the Martin and Ahuva Gross Chair in Financial Markets and Institutions. "It's encouraging that these companies have been so eager to work together in such important areas of innovation."

Patrick has strongly supported efforts to grow local business ties with Israel and bring more IT jobs to the state. In a video interview after his remarks, he spoke about the trade mission to Israel that he led earlier this year with Magid and other local academics and executives.

This is the fourth year in which Brandeis IBS has hosted the New England-Israel Business Council's annual summit, which has previously centered on industries such as clean technology and life sciences. The event was sponsored by EMC Corporation, the law firm of Foley Hoag LLP, the Asper Center for Global Entrepreneurship at Brandeis International Business School and the Consulate General of Israel to New England.
Return to the BrandeisNOW homepage