Bernice and Henry Tumen collection invaluable religious artifact resource
The Brandeis Special Collections Spotlight for October showcases the
Bernice and Henry Tumen collection
, which includes 177 Jewish ceremonial objects, primarily 19th- and 20th -century religious artifacts.
The ceremonials originate from many parts of Europe and the Near East, as well as areas of North Africa and America. The collection includes kiddush cups, spice boxes, candlesticks, menorahs, torah bindings, breastplates, rimonim, and yadayim, as well as megillot, amulets and mezuzot.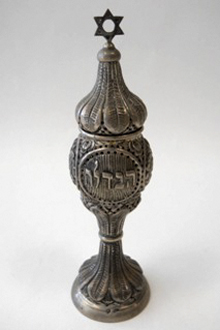 Spice Box
The works of Jewish ceremonial art illuminate the artistic expression that blossomed under the constraints of fulfilling the requirements of Jewish Law. This collection represents an invaluable resource for any student of 19th- and 20th -century European Jewish history, intercultural studies, religious ceremonies and ceremonials, Jewish symbols and superstitions, silverwork and jewelry studies and even the art of collecting itself.
Special Collections Spotlight provides a close online look at rare and fascinating individual items from the special collections of Brandeis libraries, including unique manuscripts, rare books, and unusual ephemera. A portion of the Tumen collection is on display in the cases on the mezzanine level of Goldfarb Library; this display will be refreshed and updated in the coming weeks.
Zachary Fine Albert is an M.A. candidate in Near Eastern and Judaic Studies.
Return to the BrandeisNOW homepage