Daniela Nicastro fulfills dream, swims with dolphins
Assistant professor of biology uses Wellington Prize for first vacation in two decades
When Daniela Nicastro received an email last May congratulating her on winning the Wellington Lottery Prize, she hit "reply" and wrote, "I haven't won anything. You have the wrong person." 
"Oh yes you have," James Haber assured the assistant professor of biology. He had attended the annual faculty meeting when her name was drawn out of a hat. A few months later Nicastro was on Bimini Island in the Bahamas, fulfilling a lifelong dream.
The Wellington prize was created in 1993 by an anonymous donor whose intention was "to enliven the spirits and delight the senses of assistant professors," says Sara Hellmold '00, donor relations officer.
It is intended as "an unexpected windfall for hardworking junior faculty," she said.
The donor made three stipulations. First, the lottery must be conducted publicly before the assembled faculty at the academic year's last faculty meeting; second, the prize money may not be used for purposes of normal scholarly advancement, as it is not a research grant nor one for the purchase of scholarly paraphernalia; and third, the winner is obligated to present an accurate account of how he or she made use of the funds over the summer at the first faculty meeting following use of the bequest.
Winners are encouraged to use their imagination and do something out of the ordinary, something that they may have dreamed of but dismissed  as irrelevant to their immediate and pressing career concerns. This year's prize was a check for $2,000.
Hellmold says  past recipients have used the award to travel, buy a bike, CDs, take singing lessons, cover the expenses of buying a dog, throw a Potato Party in honor of the UN's International Year of the Potato and various other pursuits.
"The award would require, to quote the Duke of Wellington on the Order of the Garter, 'no damn  nonsense about merit,'" says Hellmold, who believes the quote is also the origin of the prize's name.
Nicastro presented her use of the Wellington Prize on Thursday, Sept. 8, where she shared her life's dreams: Live to see world peace; buy a red Ferrari; snatch up George Clooney and swim with wild dolphins.
Being a realist, Nicastro chose to focus on the last.
"I wanted to swim with wild dolphins in open oceans, not domesticated ones," says Nicastro.
She spent 10 days in Bimini Bahamas — four  on the island and five days on a boat in the middle of the ocean.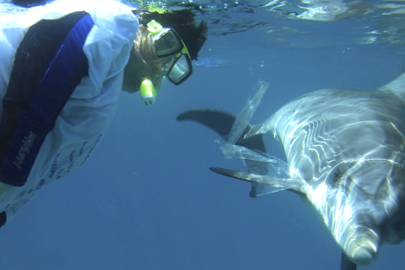 Nicastro comes face to face with wild dolphins.
"We had hours of dolphin of encounters," says Nicastro. "They chose to be that close to me. It was really cool — I don't know why I had waited this long."
She shared her adventures in a nine-minute video.
Nicastro, a native of Germany, says she was extremely selective when researching the perfect tour company for her needs. She decided on one that was eco-friendly and that promised not to disrupt, feed, touch or go out of their way to engage with the mammals. They also had 20 years worth of good reviews. The tour group comprised eight people, a captain and two staff.
Nicastro says that she finds dolphins to be so incredibly special that it's difficult to put it into words. In fact, the only piece of art she's ever purchased was a reproduction of a woman riding on a dolphin's back. She bought it at a flea market in Pennsylvania 20 years ago.
"I looked at the artist selling the painting and said, 'Oh my god, it looks like freedom'," says Nicastro. "The artist then told me to turn the painting around. The title, written across the back, read 'Freedom.'" ​
Nicastro says she has not gone on a vacation other than to visit her family in Germany in over a decade.
"This trip was the right break before the craziness, as I am now teaching over 250 students and have a grant proposal due in November," she said. "It sounds dramatic, but I really did fulfill a ​dream."
There is a German word, die Schicksalsfügung, which means stroke of fate. Perhaps this is what the Wellington prize was this year.
"It was beautiful to realize that I do have dreams in addition to those that are work-related," says Nicastro. "I think back to my experience and it nearly brings me to tears."
Return to the BrandeisNOW homepage