Fall calendar jammed with musical performances
Variety of professional concerts planned on campus throughout fall semester
Argentinian tango, Brahms sonatas and Americana – it will all be performed on campus this fall, with schedules online in State of the Arts.
The season begins Sept. 23 with a concert by the Lydian String Quartet's Grammy-nominated violinist Daniel Stepner, who will be joined by world-renowned pianist Robert Levin. Together they'll celebrate the work of Brahms, performing the German composer's "Three Sonatas for Piano and Violin." Catch the performance in the Slosberg Music Center at 7 p.m.
On Oct. 14 at 3 p.m., members of the Lydians and their colleagues will honor Irving Fine, the founder of the School of Creative Arts, with "Serious Song: A Lament for String Orchestra" (1955) and "Notturno for Strings and Harp" (1950-51). Neal Hampton of the Brandeis-Wellesley Orchestra will conduct the free show, and Pulitzer Prize-winning composers Richard Wernick '55 and Yehudi Wyner, as well as professor emeritus Martin Boykan, will share their memories of the late modernist composer.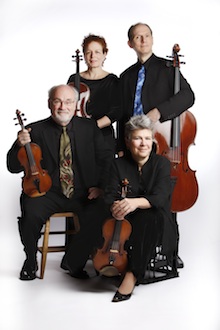 The Lydians are on again Nov. 17, at 8 p.m., when they'll perform Mozart's Quartet in D minor, K. 421, "Aqua" by Harold Meltzer and Beethovens Quartet in A minor, Op. 132. They'll also deliver a pre-concert lecture at 7 p.m.
Music Unites US, a program that seeks to engender appreciation for other cultures through music, will bring the Pablo Zeigler Tango Quartet to campus for the program's semi-annual residency October 18 to 20. On the final day at 8 p.m., they'll perform the culminating world music concert preceded at 7 p.m. by a talk delivered by Robert Farris Thompson, the author of "Tango: The Art History of Love."
Ziegler, a Latin Grammy-winning pianist and the preeminent living member of Astor Piazzolla's groundbreaking tango ensemble, leads the group in haunting, rhythmic new compositions as well as dynamic works by tango legends. The quartet also includes Hector Del Curto on bandoneon (similar to an accordion) Jisoo Ok on cello and Pedro Giraudo on double bass. The concert will feature dancers Fernanda Ghi and Guillermo Merlo.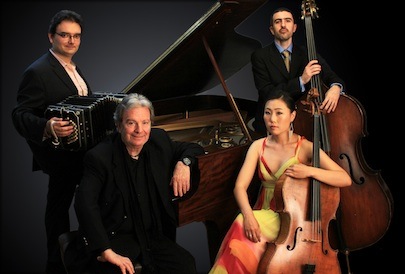 The New York Times has referred to the innovative quartet, which combines classical Argentinian music with jazz as "the essence of the new tango."
Artist-scholars Amelia LeClair and Cappella Clausura, Dana Maiben, Vivian Montgomery, Laury Gutierrez and La Donna Musicale from the Women's Studies Research Center will perform works by early women composers including Raffaella, Aleotti and Sulpitia Cesis, among others, in a free show on Wednesday, Oct. 24, at noon, in the Mandel Center for the Humanities.
Barbara Cassidy M.A. '98, her husband Eric Chasalow, the Irving Fine Professor of Music, and jazz professor Bob Nieske, will dig into the roots of the folk tradition with guests Pesky J. Nixon – whose guitarist and vocalist Ethan Baird '02 is one of Chasalow's former students – drummer Dave Mattacks, singer-songwriter and producer Goody Goodrich and critically acclaimed folksinger Peter Mulvey.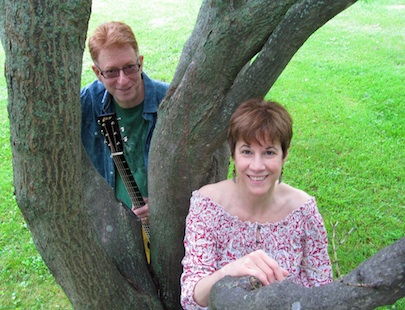 They'll perform Americana, with some jazz and pop mixed in on Nov. 4, at 3 p.m. Proceeds benefit the hunger-relief work of Waltham Fields Community Farm.
On Dec. 9, at 7 p.m., the Brandeis-Wellesley Orchestra, conducted by Neal Hampton, will perform Humperdinck's opera, "Hansel and Gretel," featuring guest singers Marion Dry, Gail Fuller and Andrea Matthews; Ravel's "Daphnis and Chlose, suite No. 2;" and Tchaikovsky's "1812 Overture."
The season ends with the annual Messiah Sing in the Shapiro Student Center atrium at 4 p.m. on Dec. 13.
All performances take place at the Slosberg Music Center unless otherwise noted; for ticket information, visit Brandeis Tickets.
Return to the BrandeisNOW homepage