Cardillo finishes 19th in NCAA fencing championship
He's also thinking about trying for the big one -- the US Olympic team
---
UPDATE
March 26, 2012: Brandeis University sophomore Julian Cardillo finished in 19th place out of 24 foil fencers at the NCAA National Collegiate Fencing Championships. Cardillo, who placed 17th at the 2011 NCAA championships, won seven of his 23 bouts, two fewer than a year ago. His best win came in the first round of action, when he defeated Reggie Bentley of Notre Dame University, 5-2. Bentley went on to finish in fifth place. He also defeated Yale's Shiv Kachru, who went on to finish in seventh place, by a 5-3 margin. Cardillo's other victories came against Barrett Weiss of Brown (5-2); Kevin Nadeau of North Carolina (5-1); Philip Choy of Air Force (5-2); Marcus Howard of Princeton (5-0) and Stuart Holmes of Sacred Heart (5-1). Overall, four of Cardillo's wins came on his first day of competition and two on his second day. With Cardillo's seven points, Brandeis finished 23rd out of 25 schools at the NCAA Fencing championships. They were third out of four Division III schools, behind Vassar (12 pts.) and NYU (11 pts.) and ahead of MIT (5 pts.). Host Ohio State won the championship with 182 points, 21 better than Princeton and 22 over Notre Dame.
---
For the second year in a row, Julian Cardillo '14 will represent the Brandeis Judges at the NCAA National Collegiate Fencing championships, which will be held at at the Ohio State University this weekend. After finishing 11th in the foil at the Northeast Regional at Boston College March 11, Cardillo earned an at-large berth to the nationals, where he will look to improve upon his 17th-place finish last year. His goal is to have a more consistent performance than in his rookie season, when he went 8-6 on the first day of action, but won just one more match on Day Two.  Cardillo says he'll try to learn from last years' experience, but he won't let it spoil the achievement of making it to Columbus to compete with the best of the best in the collegiate fencing world.
Fencing is one of the rare NCAA sports that does not differentiate between Division I, II and III – along with skiing, rifle and men's gymnastics. Out of 144 fencers selected to the championships, Cardillo will be one of only four competitors representing a Division III school, although he doesn't see it that way.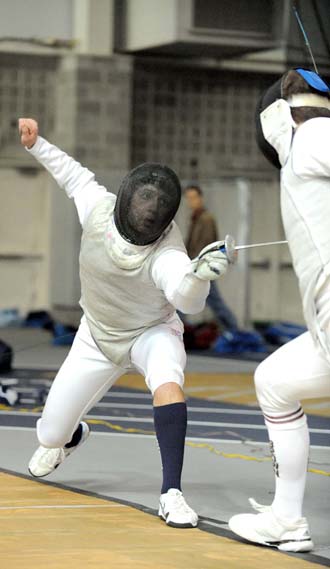 "To me, Brandeis isn't a Division III school. I'm a fencer, and we fence against Division I teams all the time," Cardillo explains. "One of the things I look forward to every year is seeing people who say, 'Wow, Brandeis fencing beat [North Carolina] or BC. But a lot of people I fence against can be friends or other old-time opponents, so it doesn't faze me if they are 'Division I'"
Cardillo got started in fencing when he was around five or six, he says. His brother Kristian, a 2006 Brandeis graduate who also competed for the Judges, took up the sport in high school in a search to focus his energies. As Kristian got more competitive, so did his little brother, who always seemed to be hanging around. Julian eventually followed in his footsteps, both in taking up the foil and eventually in attending Brandeis.
Julian cites two other factors in addition to his brother that kept him close to his Medford, Mass., home.
First, he remembers the fantastic teams that Brandeis fielded in the early 2000s, some of which reached the top 10 in the national fencing polls. Coach Bill Shipman, who is now in his 31st year coaching the Judges, was part of that. "I was always seeing coach Shipman at events," Cardillo remembers. "I was going somewhere every other month for fencing, and coach would always be there recruiting. So there was this friendliness, he knew my brother and my family, and that stuck with me."
The third factor that brought Cardillo to the Judges was the quality of the academics. He acknowledges that Brandeis was the best school that he got into, but he also specifically remembers being attracted to radio ads boasting about the quality of the journalism program. With Pulitzer Prize-winner Eileen McNamara and Maura Jane Farrelly of National Public Radio and Voice of America radio host on staff, as Cardillo puts it, "as an aspiring journalist, I knew that Brandeis was a school to look out for."
Cardillo has already put those journalistic aspirations to work, starting SNEnet.com, an on-line periodical of sports in the New England region. He also hopes to study abroad in his parents' native Italy next year while exploring the possibility of an internship with the Boston Globe to cover Italian soccer, working with one of his mentors, the Globe's Frank dell'Appa.
Cardillo is also considering following in the footsteps of another well-known Brandeis fencer, Tim Morehouse '00, and trying to qualify for the Olympics. While he cites Morehouse's influence as a role model as someone who's taken a similar path, Cardillo says the Olympic impetus has always been with him. He's put in so much effort into the sport in his life, he says, that it just makes sense to try to see that effort through to its logical end. Cardillo knows that being part of the U.S. Olympic Team requires a major commitment, one that can take up a huge amount of time, money and effort. But he's confident in his abilities. "I think if I were to make it my full-time goal, if I dropped anything else and just pursued it, I feel like I'd have a chance to make it."
To follow Julian Cardillo's results at the 2012 NCAA National Collegiate Fencing Championships from the Ohio State University visit http://www.ncaa.com/championships/fencing/d1 for links to live stats.
Return to the BrandeisNOW homepage