Hebrew professor: Focus on person, not language
Vardit Ringvald's methods have helped make Brandeis Modern Hebrew a bestseller
Vardit Ringvald visualizes the acquisition of language as a spiral, not a line. It's an idea she's been wrapping herself, and her colleagues, around since she arrived at Brandeis 27 years ago.
The proficiency approach to teaching a second language, which measures a learner's ability to function in the language, was not yet the standard when Ringvald, now a professor of Hebrew and director of Brandeis' Hebrew Language Program, began her career.
In the mid 1980s, Ringvald, an Israeli native who had studied painting and art history back home and taught Hebrew in South America, moved to Massachusetts with her husband, who was pursuing a graduate degree at Boston University. A last-minute teaching opportunity at Brandeis gave her just hours to prepare for her first course. She had thoughts of pursuing her own degree in linguistics, but realized the connection between language and culture was her true interest.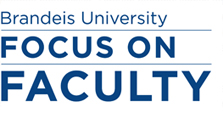 She found that 80 percent of language learners quit at the intermediate level out of frustration when their skills fail to improve at the previous rate. So Ringvald set out to understand why. While teaching full time at Brandeis and raising two sons, she eventually earned a master's and doctorate in education from Lesley University. Through her dissertation, she sought to learn what separates the 20 percent of students who move into the advanced category for what are considered difficult second languages – Chinese, Japanese and Hebrew – and how teachers could increase that percentage. Her hope was to "overcome the plunge."
"You don't get a person who is tabula rasa – you have to understand the characteristics of the students," Ringvald says. "Learning a language opens a door to understanding themselves a little better. The language becomes part of who they are. Language is not about grammar, it's about the person."
Nearly three decades later, the Brandeis Hebrew Language Program and the text she published with colleagues, "Brandeis Modern Hebrew," have become a new standard. The text is a bestseller – soon moving into a fourth printing and in the top 10 of all University Press New England books. It is used at dozens of college Hebrew programs, as well as in high schools across the United States, and a second edition is in the works.
Its success, she says, is owed to the flexibility of the material. The textbook offers exercises that can be adapted to any student or classroom. That's why she's flummoxed when she receives calls from teachers asking advice on how to "teach the book."
"We are not coming on behalf of the language, we are coming on behalf of the learner," says Ringvald.
Likewise, that's how she runs the Hebrew program on campus, and the Brandeis-Middlebury School of Hebrew in Vermont, which she established in 2007. A new joint Brandeis-Middlebury study abroad program based on her curriculum also began this year at Ben-Gurion University of the Negev.
"We are a very dynamic program because we are learner-centric," Ringvald says.
At Brandeis, students even have the opportunity to take acting classes, which result in on-stage productions and host radio shows – all in Hebrew.
It was Ringvald who helped developed the oral proficiency interviewer training for the American Council on the Teaching of Foreign Languages, and she's served as the chair of the SAT II for Hebrew. She also serves as the advisor and director of the master's program in Hebrew teaching, and offers her expertise to numerous associations and institutions
"Nothing galls her more than to witness Hebrew and Hebrew language programs being taught poorly," says colleague Sylvia Fuks Fried, director of the Tauber Institute and associate editor of Brandeis University Press. "Not only is it a waste of time and such a shame for students, but it also turns them off to the Hebrew. She never says no as long as there is someone else who wants to learn Hebrew or wants to learn to teach Hebrew."
Today, she's seeing some of the long-term fruits of her labor. Students come all the way from Saudi Arabia to learn Hebrew from her and her colleagues, and past students are going on to become Hebrew language teachers and program directors, or "competitors," which she calls the highest compliment she could receive.
Ringvald says she's happy to see her work not only elevate Brandeis' reputation as the premier university to learn Hebrew, but that it also legitimizes her work as a Hebrew educator, which was not considered a prestigious field when she first began.
"We understand we have a mission, and the mission is not completed yet," she says, pledging that she and her colleagues, all of whom have worked at Brandeis together for years, will continue to innovate. "Brandeis is not a place where you go to work," she says. "It's a way of life."
Return to the BrandeisNOW homepage