Spurred by 9/11, Willrich explored individual and collective rights
The vehicle: An early 20th century smallpox epidemic. The result: An award-winning book.
As with many Americans, the balance between individual and collective rights occupied Michael Willrich's mind in the aftermath of Sept. 11.
In that period of unease and uncertainty, there was also a renewed fear that the smallpox virus – which has been eradicated in the United States since 1949 – could become a primary weapon of biological warfare against the U.S.
From amidst those converging concerns, Willrich, a Brandeis professor of history since 2000, drew inspiration for his latest award-winning book, "Pox: An American History," which traces the smallpox epidemic at the turn of the 20th century and the country's reaction to efforts to control it. The book won critical praise and earned him honors from professional groups like the Organization of American Historians and publications like the New Yorker.
"I was sort of preoccupied, as many Americans were, with the age-old tension between individual liberty and collective interest," he recalls, "especially in the rise of a more powerful security apparatus in the United States."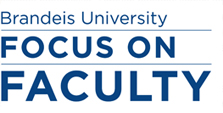 "Pox," focuses on late 1890s and early 1900s, when a smallpox epidemic swept the United States and threatened public health. The disease spread quickly. Panicked government officials quarantined those suspected of it, and ordered mandatory vaccinations for the population at large. Many ordinary Americans rejected state governments' claims to have the right to order vaccinations and Willrich recounts scenarios in which citizens were held down, handcuffed or even vaccinated at gunpoint. The civil liberties battle that ensued between the officials and the anti-vaccination contingent drew him into the story, he says.
"There was a surprising amount of resistance from workers, parents, religious groups," in large part due to the lack of vaccine regulation that Americans now take for granted. Cases of illness and death were reported in people who had been vaccinated.
"One of the challenges in writing this was to think about and be able to talk about the history of science and medicine in a way that is aware of what we know now, but with an appreciation for what we knew then," Willrich says. "I wanted to draw analysis without doing an injustice to the fact that public health officials on the ground in 1901 had to fight the disease with the knowledge at their disposal."
Willrich, who earned a bachelor's degree in history from Yale and master's and doctoral degrees from the University of Chicago, says he's interested in the way ordinary people interact with the law.
He previously taught at Rice University, but said Brandeis was "very much on my mental map," having been a student and colleague of various Brandeis history program alumni.
His expertise is in urban, legal and, now, medical history, though he never attended law or medical schools.
"I'm largely self-taught," Willrich says, adding that he had assistance from friends and experts in the medical field. "I have a deep respect for the field – it's technical but deeply fascinating."
Willrich previously authored "City of Courts: Socializing Justice in Progressive Era Chicago." He says he did much of the research for the second book in 2003, as a Radcliffe Institute for Advanced Study fellow at Harvard University.
It wasn't until 2007, when he took on a Charles A. Ryskamp Research Fellowship at the American Council of Learned Societies, that he began writing it.
Willrich has taught a variety of courses at Brandeis, including the two-semester "History of Legal Studies," "Crime and Punishment in History" and "America in the Progressive Era." In the fall, he'll teach "Introduction to Doctoral Studies."
Before pursuing his graduate degrees, Willrich worked as a journalist in Washington, D.C., writing for The New Republic and Washington Monthly, among other publications. But he says teaching and writing history were always on his radar. Taking a cue from his father, who at one time was a writer and law professor, he says he liked what he "imagined that lifestyle to be." Not only was the diversity of skills attractive, but he also enjoyed seeing the way his father got to interact with students, and the time he had to spend with family in the summer.
In that sense it's no surprise Willrich has focused on building relationships with his own students. In 2011, he received the Dean's Award for Outstanding Mentoring of Students in the Graduate School of Arts and Sciences.
The two processes – teaching and writing – reinforce each other, Willrich says. His research informed the reading he assigned his students, adding more depth to discussions of public health and civil liberties. Likewise, teaching helped him mold complex, technical arguments into laymen's terms.
With the concerns about the safety of vaccination resurfacing as a contemporary issue, however, Willrich has been invited to speak about the topic at a variety of institutions, including medical schools and societies.
"Some of these issues have returned with a vengeance today. There's a lot of fear and a lot of indifference. Because vaccines have been so successful, they've been a victim of their own success," Willrich says. "It's been a launching point for writing op-eds and doing radio interviews."
Willrich lives in Wellesley with his wife and two children. He's looking forward to sniffing out a topic for his next book this summer, and come fall, he will become the director of graduate studies in history, which he says has been an important part of his Brandeis experience, and the acting director of the Mandel Center for the Humanities.
Return to the BrandeisNOW homepage