Nemzoff offers families tips on holiday challenges
Book offers suggestions for a smooth holiday season and beyond
It's here — the time of year when a single table in one home may very well be shared by turkey lovers and vegans, war protesters and NRA cardholders, the amicable and the austere.

Family dynamics are forever changing, and while the nuclear unit will never be the same when extended family is added to the mix, a positive, flexible attitude can mean additional fulfilling relationships – or at least help family members survive the holiday season without ruptured relations.

That and more form the content of a new book by Ruth Nemzoff, a resident scholar at the Women's Studies Research Center: "Don't Roll Your Eyes: Making In-Laws Into Family."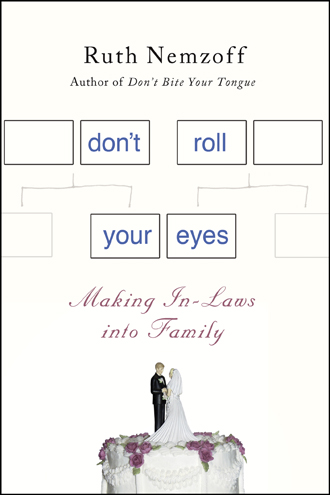 The book's 11 chapters touch on subjects such as diversity, siblings, grandchildren and finances. It advises readers how to improve current relationships with family members, encourages parents to focus on their children's happiness and not their own disappointments, and advises adult children to focus on the good qualities of their in-laws.
While Nemzoff doesn't promise quick solutions, and admits that some problems are unsolvable, her focus is on ways in which to improve relationships with time and effort.
Nemzoff has held numerous positions over the years that have required keen interpersonal skills and the need to just get along. She was assistant minority leader of the New Hampshire legislature and deputy commissioner of health and welfare in that state. She founded a nursery school, a counseling service and the National Women's Legislative Lobby. And she brings to her task decades of personal family experience with her four children and their eight collective in-laws.
The groundwork for this book, says Nemzoff, started in 2008 during her lectures for her previous book "
Don't Bite your Tongue: How to Foster Rewarding Relationships with Your Adult Children
."
"That's when I began to see the frequency of people asking about in-law relationships," says Nemzoff. "This book is a compilation of all the stories that I heard on the road, through travel and lectures."
A recent encounter occurred on an airplane, when the woman sitting next to her noticed Nemzoff's book, which she was carrying, and struck up a conversation. The woman had two children from her previous marriage and one from her current marriage.
"How are things between you and your ex-mother in-law?" Nemzoff asked.
"They're actually really good—now," the woman replied.
"And why do you think that is?" Nemzoff asked.
"Because we both grew up," the woman answered.
The woman shared how her former mother-in-law appreciates when the grandchildren call her, send thank-you notes and remember her.  The kids are teenagers, and the ex-in-law knows those things probably wouldn't be happening without their mom's prompting.
Marriage has only been about love in the last few generations, says Nemzoff, adding that even now only a small population in the world marries for love.
"I know people in my parents' generation who didn't marry their first love because of economics -- their parents wouldn't let them," says Nemzoff. "For many years marriage was a business deal. The wealthy protected their property, the poor got rid of an additional mouth to feed or gained work help. That's not a propitious soil for happiness."
In this generation, she says, people marry for love, and suddenly they have obligations to people they may never have met. Older generations wonder what their role is in this new family, and siblings often feel pushed aside or competitive.
"Then there can be two sets of in-laws, who vie for supremacy," says Nemzoff. "They may compete with each other on who gets more time with the couple/family and what they can offer them financially."
Thanksgiving and other gatherings can be problematic for families, beginning with whose house will host, unless people call on their most mature selves, says Nemzoff.
Some of her tips for terrific Turkey Days cover:
Sharing
: Alternate locations every year, or see if one family can celebrate on a different day.
A declined invitation
: When a grown child will not make it to Thanksgiving try to reframe the hurt and realize they are now also part of another family.
New Traditions
: Do not leave an empty space at your table if some family members cannot join you. Instead of mourning your loss, begin new traditions.
Menu Mayhem
: Be open-minded about what will be served. Ask to be alerted to particular food accommodations, such gluten-free, vegan or kosher. You can also suggest people bring a dish they're comfortable eating.
Timing
: Families with teens may want attend a football game, while families with toddlers may need to take naps. Try to meet in the middle.
Post-election fallout
: In some families it's best to avoid political conversations. During Thanksgiving it's nice to have times in which you're doing things together, such as watching a football game on TV, going for a walk, playing with children, even doing the dishes.
"Relationships take work," says Nemzoff. "They can make any event or life happiness richer, but they can also cause troubles-- and the choice is ours."
Nemzoff also serves on the
Massachusetts Commission on the Status of Women
.
Return to the BrandeisNOW homepage