Revving it up in and out of the classroom
Coming to Brandeis was a revolution in more ways than one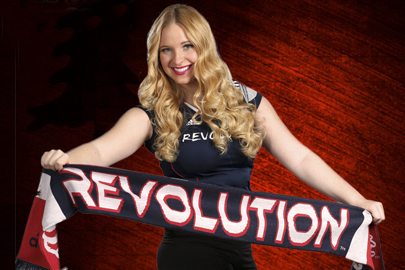 Photo/revolutionsoccer.net
Jen Swain '15 was ready for a change in 2013.
The Concord, Mass. native transferred to Brandeis after her sophomore year at the University of Rochester to take advantage of smaller class sizes and be closer to her family. 
Swain says she made the right decision.
The politics and history double major, who is scheduled to graduate this Spring, has made the Dean's List every semester, she joined the equestrian club team, and she has made a host of new friends. She also achieved a longtime dream when she became a member of the New England Revolution promotional team, the Rev Girls.
"When I tell people I work for a professional sports team, they think it's pretty cool," says Swain, who joined the Rev Girls upon returning to the Boston area. "I grew up playing soccer and was a huge fan of New England sports, especially the Revolution. So when I came to Brandeis I finally had the chance to try out for the Rev Girls."
Being a Rev Girl has allowed the former college cheerleader to take her passion for cheer to a higher level. It also means that on many Saturday nights in the fall, rather than going out with her fellow students to dinner, a party or a concert, Swain is at Gillette Stadium in Foxborough, Mass., dressed from head to toe in red, white and blue, helping to rally thousands of soccer fans around the Revolution.
Swain says balancing schoolwork with representing the Revolution at all home games, promotional events and community service projects keeps her schedule full. But she has fully embraced every commitment.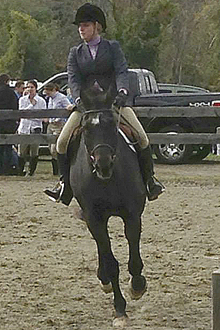 Swain competes for the equestrian team
"There might be a stereotype about what we do, that we're just there to look pretty, but there's more to it than that. Being a Rev Girl is something I care about and am really involved in," says Swain. "It's more than just looking good. You prove it through hard work and having diversified interests."
Swain's favorite memory as a Rev Girl doesn't involve a specific game. Instead, she is quick to recall her involvement with "A Prom to Remember," an event in which local salons, designers and Boston's Ritz Carlton Hotel sponsored a prom — complete with formal attire, limousines and dancing — for local high school students with cancer who missed their own proms. Swain says it was a special evening, with professional Boston athletes and the Rev Girls helping brighten up the lives of many teenagers.
Drawing on what she has learned at Brandeis and her experience as a Rev Girl, Swain plans to pursue a career in teaching.
"I'm thinking of getting a masters degree in teaching from Brandeis because I'd like to be a social sciences teacher," says Swain. "I've been interested in teaching and working with young kids for a while, and I think I could make a difference." 
Return to the BrandeisNOW homepage