In Case of Emergency
In the event of a safety emergency on campus, call (781) 736-3333.
University Police
One of the Department of Public Safety's five major offices, the university police are responsible for the protection of life and property on and within the confines of the 325 acres and over 100 buildings that make up the environs of Brandeis University. The department, consisting of a chief, a lieutenant, five sergeants, fifteen police officers, two security officers and four parking monitors, monitor the campus 24 hours a day, seven days a week.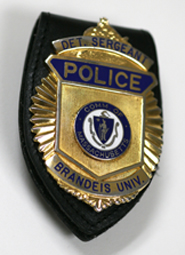 Headquartered in the Stoneman Building, the university police provide emergency services to the Brandeis community via the most modern equipment available. Call (781) 736-3333 emergency line or (781) 736-5000 business line for assistance.
The university police patrol the campus on a regular basis and monitor closed-circuit television coverage of specific public areas and parking lots.
The jurisdiction of the Brandeis University police officers includes the main campus, the Angleside and Charles River Road residence halls, property on Turner Street and any other property belonging to the university.
All university police officers are warranted under Chapter 22 C, Section 63, of the Massachusetts General Laws after receiving formalized training in police sciences at the Massachusetts State Police Academy and/or the Massachusetts Police Training Committee. Each officer receives further specialized training through various federal, state and local criminal justice training centers. The department continually sponsors in-service training programs for its members to keep them abreast of the latest in medical and police science techniques.
Although no formal Memoranda of Understanding is in place, the university police enjoy strong professional relationships with federal, state and local law enforcement agencies. Cooperative programs and information exchanges are ongoing priorities. The Brandeis police work closely with the Waltham police when incidents arise that require joint investigative efforts, resources, crime related reports and exchange information as deemed necessary. Through this reporting relationship, the university police relay information to the university community on crimes that may pose a threat to students or employees. When a Brandeis University student is involved in an off campus offense, Waltham Police officers will document the incident. The report will be forwarded to the director of Public Safety who will advise the Dean of Student Life. Waltham police officers communicate with Brandeis officers relative to serious matters occurring on campus as well as off campus locations inhabited by members of the Brandeis community.
Brandeis University operates no off campus housing or off campus student organization facilities. However, some undergraduate and graduate students live within neighborhoods in close proximity to the university. Brandeis officers do have direct radio communication with Waltham police to facilitate communication in an emergency situation.