Jewish Studies Colloquia
The Jewish Studies Colloquium, which has been meeting since 2001, provides a forum for graduate students and faculty from Brandeis University and other academic institutions around the world to discuss their current research and works-in-progress. The colloquium engages a wide range of topics in Jewish studies from history and thought to political and national identity. 
MA and PH.D candidates, college and university faculty, and independent scholars are welcome.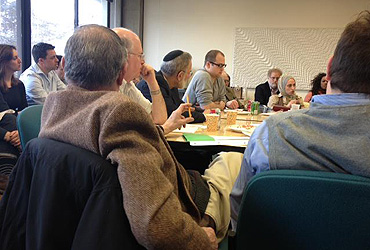 The Tauber Institute
Jewish Studies Colloquium
2012-2013 Schedule:
Meetings are on Tuesdays, Lown, room 315
12:00 – 2:00 pm
Fall 2012:
September 11, 2012
Sam Moyn, Columbia University
"Rethinking Jewish Internationalism: The Case of René Cassin"
November 19, 2012
Rachel Havrelock, University of Illinois, Chicago
"The Joshua Generation: Politics and the Promised Land"
November 27, 2012
Tova Hartman, Bar Ilan University
"'Beruriah Said Well': The Many Lives (and Deaths) of a Talmudic Social Critic"
Spring 2013:
January 29, 2013
Julia Phillips Cohen, Vanderbilt University
"Self-Orientalism: Ottoman Jews, 'Turkish Nights' and the Production of Heritage"

March 5, 2013
Eli Stern, Yale University
"Catholic Judaism: Enlightenment and Tradition in Nineteenth-Century Eastern European Jewry"

April 23, 2013
Sven Erik Rose, Miami University, Ohio
"Becoming Citizens of Hegel's State, or the Politics of Wissenschaft des Judentums in 1820's Germany"
Participating in the Colloquium:
Presenters discuss a work-in-progress made available in advance.  Following a brief overview (5-10 minutes), the presenter opens the floor to questions, critiques, suggestions, and general discussion. 
Papers, which are not to exceed 30 pages, will be made available online two weeks before each colloquium session.
Presenting at the Colloquium: To submit your works-in-progress for presentation at the Jewish Studies Colloquium, please contact Sylvia Fuks Fried at fuksfried@brandeis.edu or Eugene Sheppard at sheppard@brandeis.edu.