Jewish Studies Colloquia
The Jewish Studies Colloquium, which has been meeting since 2001, provides a forum for graduate students and faculty from Brandeis University and other academic institutions around the world to discuss their current research and works-in-progress. The colloquium engages a wide range of topics in Jewish studies from history and thought to political and national identity. 
MA and PH.D candidates, college and university faculty, and independent scholars are welcome.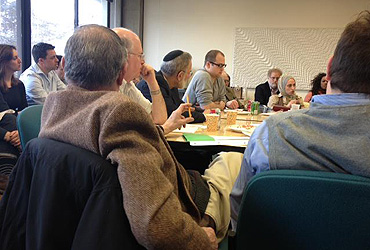 The Tauber Institute
Jewish Studies Colloquium
2017-2018 Schedule
Meetings are on Tuesdays, Lown, room 315
12:20 – 2:00 pm
Fall 2017:
Tuesday, September 19, 2017 
"Scribalism and the Beginnings of Jewish Demonology" - Annette Yoshiko Reed, New York University
Tuesday, October 17, 2017
"The Boy of Today Loves Speed: Sendak on Interwar Jewish Childhood in Flux" - Golan Moskowitz, Brandeis University
Tuesday, November 14, 2017
"Disciplining the Dissident Body: Disability, Gender and State Violence in Rabbinic Literature" - Julia Watts Belser, Georgetown University
Spring 2018:
Tuesday, January 23, 2018
"Judeo-Moroccan Traditions and the Age of European Expansionism in North Africa" - Yigal Nizri, University of Toronto
Tuesday, February 13, 2018
"Jewish-Christian Polemic in the Islamicate Milieu: Toledot Yeshu in Judeo-Arabic" - Miriam Goldstein, the Hebrew University of Jerusalem
Tuesday, March 13, 2018
"The Outsider: Benzion Netanyahu and the Politics of Resentment" - Adi Armon, University of Wisconsin-Madison
Tuesday, April 10, 2018
"Wittgenstein's Moses: Reference, Identity and an Embarrassing Confession" - Abraham Socher, Jewish Review of Books
Participating in the Colloquium: Presenters discuss a work-in-progress made available in advance.  Following a brief overview (5-10 minutes), the presenter opens the floor to questions, critiques, suggestions, and general discussion. 
Papers, which are not to exceed 30 pages, will be made available online two weeks before each colloquium session.
Presenting at the Colloquium: To submit your works-in-progress for presentation at the Jewish Studies Colloquium, please contact Sylvia Fuks Fried at fuksfried@brandeis.edu or Eugene Sheppard at sheppard@brandeis.edu.