Jewish Studies Colloquia
The Jewish Studies Colloquium, which has been meeting since 2001, provides a forum for graduate students and faculty from Brandeis University and other academic institutions around the world to discuss their current research and works-in-progress. The colloquium engages a wide range of topics in Jewish studies from history and thought to political and national identity. 
MA and PH.D candidates, college and university faculty, and independent scholars are welcome.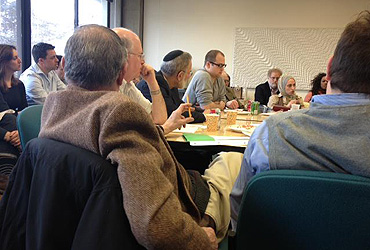 The Tauber Institute
Jewish Studies Colloquium
2016-2017 Schedule:
Meetings are on Tuesdays, Lown, room 315
12:20 – 2:00 pm
Fall 2016:
Tuesday, September 20, 2016
Yitzhak Melamed, Johns Hopkins University
"Spinoza, the Pharisee"

Tuesday, November 15, 2016
Azzan Yadin-Israel, Rutgers University
"Language Evolution as a Model for Linguistic and Cultural Contact: The Case of Late Antique Judaism"
Tuesday, December 6, 2016
Dan Rabinowitz
"For the Love of Money: The Strashun Library Settlement and its Aftermath"
Spring 2017:
Tuesday, January 24, 2017
Matthew Goldstone, New York University
"The Duty and Dangers of Rebuke in Rabbinic Literature"
Tuesday, February 14, 2017
Reuven Kimelman, Brandeis University
"The Aleinu Prayer and Its Historical Context: Ancient, Medieval, or Modern?"
Tuesday, March 21, 2017 (RESCHEDULED)
Mary Gluck, Brown University
"The Invisible Jewish Budapest"
Tuesday, April 25, 2017
Laura Jockusch, Brandeis University
"Beyond Vengeance: Jewish Visions of Justice after the Holocaust"
(read paper)
Participating in the Colloquium: Presenters discuss a work-in-progress made available in advance.  Following a brief overview (5-10 minutes), the presenter opens the floor to questions, critiques, suggestions, and general discussion. 
Papers, which are not to exceed 30 pages, will be made available online two weeks before each colloquium session.
Presenting at the Colloquium: To submit your works-in-progress for presentation at the Jewish Studies Colloquium, please contact Sylvia Fuks Fried at fuksfried@brandeis.edu or Eugene Sheppard at sheppard@brandeis.edu.