Jewish Studies Colloquia
The Jewish Studies Colloquium, which has been meeting since 2001, provides a forum for graduate students and faculty from Brandeis University and other academic institutions around the world to discuss their current research and works-in-progress. The colloquium engages a wide range of topics in Jewish studies from history and thought to political and national identity. 
MA and PH.D candidates, college and university faculty, and independent scholars are welcome.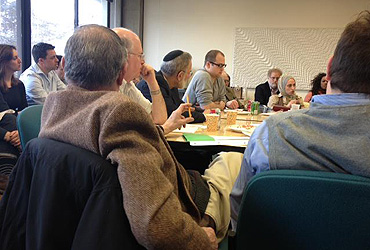 The Tauber Institute
Jewish Studies Colloquium
2015-2016 Schedule:
Meetings are on Tuesdays, Lown, room 315
12:20 – 2:00 pm
Fall 2015:
Tuesday, October 13, 2015
Karen Auerbach, University of North Carolina
"'For God and Country': Jewish Publishers of Polish Books in the Nineteenth Century"

Tuesday, November 10, 2015
Mirjam Zadoff, Indiana University
"Jews on the Move, Jews in Love: Cultural Practices of 'Courtship' and 'Dating' in Modern Jewish Societies"
Tuesday, December 1, 2015
Geraldine Gudefin, Brandeis University
"Bigamy in the 'Hebraic Church': Russian Jewish Encounters with New York State Law at the Turn of the Twentieth Century"
Spring 2016:
Tuesday, January 26, 2016
Beth Berkowitz, Barnard College
"Desperately Seeking Animal Suffering: Perspectives from the Talmud on Our Moral Schizophrenia about (Other) Animals"
Tuesday, February 23, 2016
Jessica Marglin, University of Southern California
"Written vs. Oral in Islamic Law: Documentary Evidence in Moroccan Shari'a Courts"

Tuesday, March 15, 2016
Jeremy Eichler, Brandeis University
"Sounding the Inexpressible: Arnold Schoenberg and the Birth of Postwar Musical Memory"

Tuesday, April 12, 2016
Arnold Franklin, Queens College, CUNY
"Contemplating Prayer: David ben Joshua Maimuni's Commentary on the Liturgy"
Participating in the Colloquium: Presenters discuss a work-in-progress made available in advance.  Following a brief overview (5-10 minutes), the presenter opens the floor to questions, critiques, suggestions, and general discussion. 
Papers, which are not to exceed 30 pages, will be made available online two weeks before each colloquium session.
Presenting at the Colloquium: To submit your works-in-progress for presentation at the Jewish Studies Colloquium, please contact Sylvia Fuks Fried at fuksfried@brandeis.edu or Eugene Sheppard at sheppard@brandeis.edu.