2022 Grant Awards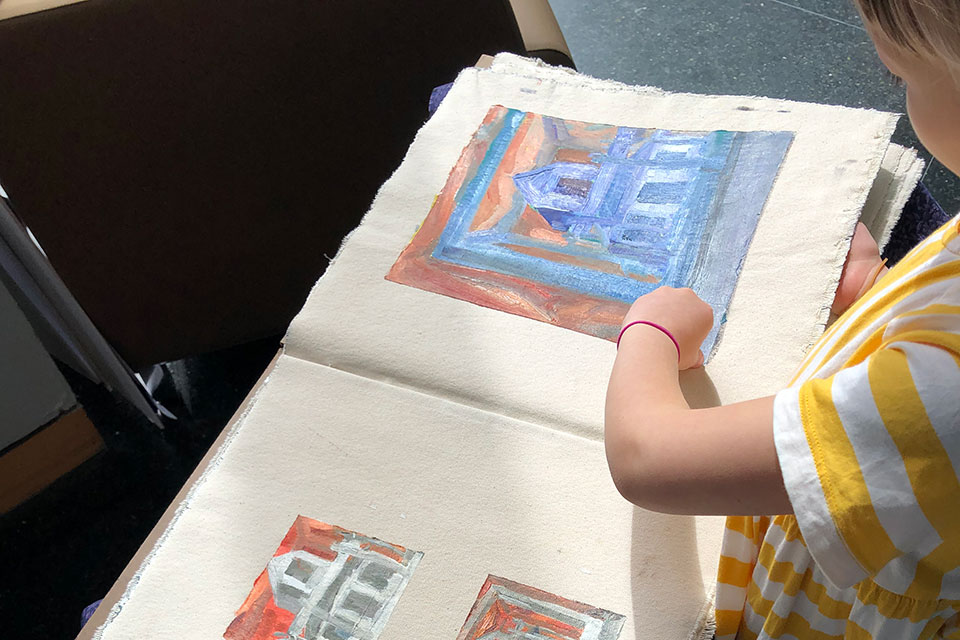 The Arts Engagement office in the Division of Creative Arts awards grants to Brandeis faculty, staff, students and alumni to support innovative new work for the Festival of the Arts that offers opportunities to create, participate and learn about the arts.
A jury of faculty and staff evaluates grant applications on the quality and innovation of the project, and the potential for broad involvement of the Brandeis community during the festival. The following applicants received funding for the 2022 festival:
Ash Friedman '21
"Last car on the rollercoaster but this time it's my body" — Chapbook and performance of poetry depicting the author's journey from utter despondency to a renewal of faith in the world and themself, charting the topics of disordered eating, gender dysphoria, sexual assault, queerness, substance abuse, faith and strained familial relationships.
James Heazlewood-Dale (GRAD) and Eric Hollander (GRAD)
"Illness and Healing" — An interdisciplinary symposium for Brandeis graduate students, featuring presenters from the music department and beyond.
Rasheed Peters '20
"Black Prom" — Large-scale photographs to be hung from the Rabb Graduate Center facing Rabb Steps.
Julivic Marquez '18
"Rebirth" — An original video about three generations of women — the filmmaker, her mother and grandmother and their joy in movement.
HBI Project on Latin American Jewish & Gender Studies
"Beyond Trauma" — Interactive exhibit of work by Argentinean artist and educator Sandra Mayo, who addresses migration and survival in the face of geopolitical events using the pictographic language of genograms, which describe the nature of relationships between individuals.
Nhat Nguyen (GRAD), Ali Puskulcu (GRAD), Max Friedman (GRAD), Qi Li (GRAD)
Graduate students in the music department's composition and theory program will create sound installations for the Sound in Slosberg event on April 27.
Salma Bensalim '24
"Unseen Women" — Photo exhibit of women of color
PARC (Prevention and Advocacy Services)
"Anti-Violence Mural in Usdan" — New mural near PARC and Gender & Sexuality offices
Liam Coughlin, PB '22
"Reintegration" — Eight sections of pine trees that have spent a year inside the artist's studio are reintroduced to the outside world in a new 24-foot-tall form.
Kyra Fischer '22
"Repurposing Trash" — Trash collected around the Brandeis campus and painted, then assembled into a new form.
Kaija Grisham '24
"In Their Room" —

 In this illustrated zine, an adult rediscovers the imaginary worlds of their childhood bedroom. 
Ofri Levinson '25
"Oceans" — Immersive sculpture about ocean pollution made from recycled materials.
Qinwei (Judy) Li '23
"Among Angst" — A 10-minute original film, a dramatic comedy about university students' handling of love, career, failures and dreams.
Logan Shanks '24
"Us had the kind of love that couldn't be fixed" — In African spirituality, death is rebirth. This performative sculpture enacts a community burial of The Black Superwoman and evokes her capacity to labor for the sexual poltical economy of slavery and her community.
Anya Shire-Plumb '22
"The Way to Happiness/Path to Happiness/Eternal Sun" — A landscape intervention that paints cobblestones on the paths that snake throughout campus so that pedestrians can experience what Cameroonian artist Pascale Marthine Tayou calls "the colors on the stone floor, the eternal sun under our steps every day."
Rebecca Strauss, art technician, Department of Fine Arts
"Buoyant Vessels" — An aquatic sculpture made from slip-cast ceramic forms modeled after the air bladder structures found in aquatic plants and assembled into colony-like structures placed in and near Chapels Pond.
Michaela Trieloff '23 and Hannah Taylor '23
"Lost and Found" — A multimedia oil painting with elements of embroidery and glass beadwork on canvas.
Mello Wilsted '22
"Kelpologie Fins" — Video of a swimming performance using a custom-made silicone monofin.
Yiwei (Calvin) Yin, PB '22
"Kindness Booth" — Design and paint bright and colorful patterns on the exterior walls of the blue booths outside of Shapiro Campus Center.
Ashley Young '22
"Flight" — A community-sourced mobile installation of origami birds carrying aspirations for the future, which community members are encouraged to move through.