Howardena Pindell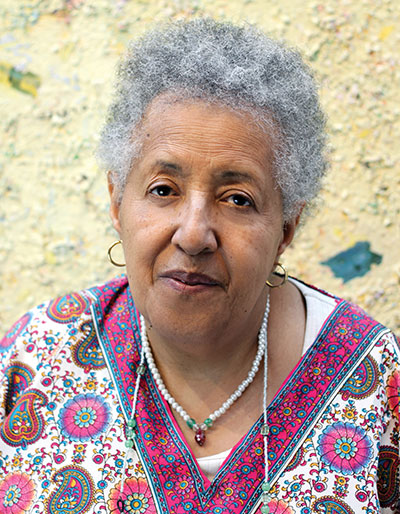 Doctor of Fine Arts
On a trip through northern Kentucky as a young girl, Howardena Pindell noticed red circles at the bottom of the glasses from which she and her father drank at a root beer stand. Her father explained those circles indicated the glasses were reserved for African Americans. This painful memory would make the circle central to Pindell's art, and contributed to her lifelong pursuit of social justice through art and advocacy.
For more than 40 years, Pindell has employed a distinct process of using paint, thread, and paper circles to build up the complex surfaces on her unique abstract works of art. Each of her pieces carries traces of her personal history, while also making bold statements on such issues as racism, sexism, AIDS, homelessness, and war.
After receiving her MFA at Yale University, she worked at the Museum of Modern Art in New York City, becoming its first female African American curator. She was recognized as one of the few female artists working in abstract expressionism — a largely male-dominated field at the time — and was among the few voices speaking out against racism and sexism in the art world. She helped found and named the first artist-directed gallery for women in the U.S. Her 1980 video "Free, White, and 21," in which she recited the racist and sexist comments directed at her throughout her life, was groundbreaking for both its frankness and her use of video. In 2019, she became Distinguished Professor at Stony Brook University, in New York.
Pindell's work — which has been featured in many landmark museum exhibitions, including two retrospectives at Brandeis' Rose Art Museum — is in the permanent collections of the Museum of Fine Arts, Boston; the Smithsonian American Art Museum, Washington, D.C.; the Whitney Museum of American Art; the Metropolitan Museum of Art; and other major U.S. museums. She has taught fine art at Stony Brook University since 1979. In 2019, the College Art Association recognized her with the Distinguished Artist Award for Lifetime Achievement.