Carol Anderson
2022 Recipient
Carol Anderson, the Charles Howard Candler Professor of African American Studies at Emory University, is the 2022 winner of the Joseph B. and Toby Gittler Prize.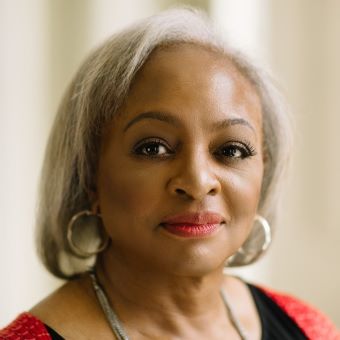 Dr. Anderson is the author of "White Rage: The Unspoken Truth of our Racial Divide" (Bloomsbury 2016). This book won the 2016 National Book Critics Circle Award for Criticism and is also a New York Times Bestseller, a New York Times Editor's Pick, and listed on the Zora List of 100 Best Books by Black Woman Authors since 1850.
She is also author of "Eyes Off the Prize: The United Nations and the African-American Struggle for Human Rights, 1944-55" (Cambridge University Press 2003), which was awarded both the Gustavus Myers and Myrna Bernath Book Awards. "Bourgeois Radicals: The NAACP and the Struggle for Colonial Liberation, 1941-60" (2014) was also published by Cambridge.
"One Person, No Vote: How Voter Suppression is Destroying our Democracy" was long-listed for the National Book Award in Non-Fiction and was a finalist for the PEN/Galbraith Book Award in Non-Fiction. Her young adult adaptation of "White Rage, We are Not Yet Equal" was nominated for an NAACP Image Award. "The Second: Race and Guns in a Fatally Unequal America" explores the anti-Blackness of the Second Amendment and the consequences for African Americans' citizenship and lives. "The Second" was chosen as a New York Times Editor's pick, Best Social Science Books of 2021 by Library Journal, and one of the Writer's Bone Best Books of 2021.
She has been elected into the Society of American Historians, named a W.E.B. Du Bois Fellow of the American Academy of Political and Social Sciences, and elected into the American Academy of Arts and Sciences.
In addition to numerous teaching awards, her research has garnered fellowships from the American Council of Learned Societies, the Ford Foundation, National Humanities Center, Harvard University's Charles Warren Center, the University of Chicago's Pozen Center for Human Rights, and the John Simon Guggenheim Foundation.
Professor Anderson was a member of the U.S. State Department's Historical Advisory Committee. She earned her PhD in history from The Ohio State University.
Dr. Anderson was in residence at Brandeis Oct. 24-26, 2022. Her residency included an award ceremony and public lecture Oct. 26.